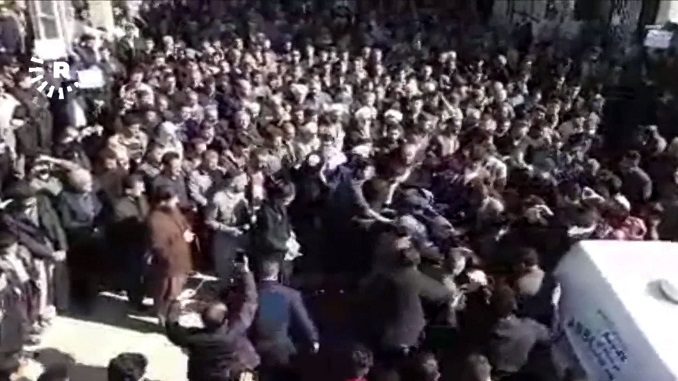 Crowds of mourners paid their respects to a volunteer who was killed delivering aid to earthquake victims. His death has sparked protests by people accusing the Iranian government of failing to help those affected by the earthquake.
Abubakr Maroufi was driving a vanload of aid to earthquake victims in Sarpol-e Zahab when he died in a car accident, Kurdish media network Rudaw reports. News of his death drew Kurds into the streets of Kurdish cities in Rojhelat, Iranian Kurdistan, in rare protests.
"The Kurdish people are expressing their anger at the regime in Iran who have not helped the earthquake victims," said the Democratic Party of Iranian Kurdistan (PDKI), an armed political party struggling for greater Kurdish rights in Iran. The party said the protests, which they described as peaceful, also took on nationalist tones with people chanting slogans like "Our struggle and our unity" and "Kurdistan is one country." Maroufi was laid to rest Saturday morning.
A 7.3 magnitude earthquake struck the Iran-Kurdistan Region border on Sunday, killing 436 people and injuring over 10,000, according to official figures. Ten people were killed in the Kurdistan Region. Kurds in Iran have complained that aid is slow or non-existent in some areas. The Iranian Red Crescent reported that 51,000 tents, 30 tons of rice, and 256,000 bottles of water have been distributed, as of Thursday, amongst other aid.
"The emergency sheltering has been completed and the Iranian Red Crescent is screening for any gaps now," the aid agency stated.
The Ministry of Health has sent 25 medical professionals to the quake-hit Kermanshah province to offer psychotherapy and counselling services, IRNA reported on Saturday.  Iran's Supreme Leader has urged officials to spare no effort in delivering aid. A Kurdish refugee originally from Sarpol-e Zahab is raising awareness and much needed funds in Canada to help out friends and families in Iran affected by the last week's earthquake.
"All of our people are sleeping on the streets. A lot of people are dying. We really need blankets, tents and water," Omar Rahimi told Rudaw English in a telephone interview on Sunday.
He along with employees he works with through HireARefegee.ca, an online platform he co-founded providing job opportunities to newly arrived refugees in Manitoba have launched an online fundraiser. Rahimi said the aid being delivered is not enough.
"There are not enough tents, not enough blankets. The tents are not in good shape, there's wind, there's rain. Mud is everywhere," he said. "What kind of life is it to live in a tent?"
Iran has refused international offers of aid during the initial emergency phase, though the Iranian Red Crescent has said it would welcome assistance at a later time. Rahimi wishes all borders would be opened to aid as Kurds want to help each other. Out of three official land gates between the Kurdistan Region and Iran, only one is open due to the tensions between the Iraqi and Kurdish governments in the wake of the Kurdish independence vote.
"The Kurds in Iraq are very, very generous people because for many years, the Kurds in Iran helped the Kurds in Iraq. Now, they want to return the favor, but the borders are closed so they have a hard time," he said.
The Kurdish population has complained that Iranian authorities are slow in delivering aid – or not delivering it all. Much of the assistance – water and food – that they have received has come from volunteers. Rahimi said that all of the money raised through the campaign will be sent to Sarpol-e Zahab through the Kurdish Association of Manitoba. So far, the campaign has raised $5,633 of their $30,000 goal.
"The disaster in this region is unbelievable," stated the Kurdistan Human Rights Association. The organization has also claimed that Iran has blocked dissemination of news from some areas so the full scale of the situation cannot be estimated yet.
Some 1,900 villages and seven cities in Kermanshah province have been affected, according to figures from Iran's Interior Ministry. Twelve thousand houses were completely demolished and another 15,000 need repairs, said a construction official, Azizullah Mahdiani. Sarpol-e Zahab is one of the worst-affected cities hit by the earthquake.