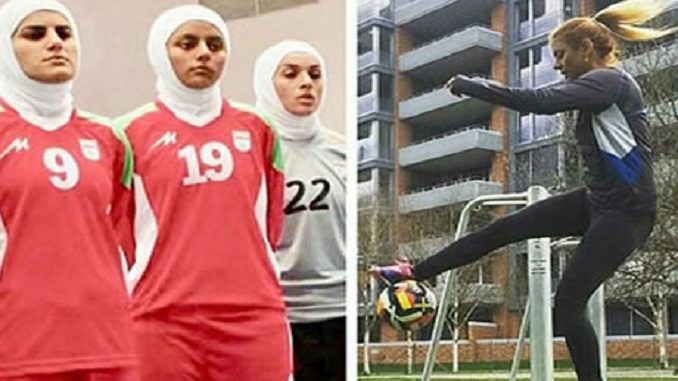 A top-class Iranian footballer has filed for asylum in Switzerland because she faces jail at home for playing without a hijab while wearing shorts and in a match alongside men. Famous league player in Iran, Shiva Amini, had been set aside from the national team for removing her veil while on vacation in Switzerland. She had posted pictures of herself in the social networks showing her playing football without covering her hair, state-run Rokna news agency reports.
Five-a-side international was on a personal holiday in Switzerland in March when the Iranian FA spotted pictures of her wearing shorts while playing in a match with friends. The veil has been a mandatory dress requirement for women in Iran since the Islamic Revolution in 1979.
She was dropped and barred from the national side as well as being banned from coaching or playing in league teams. Amini has now stayed in Switzerland, fearing arrest on her return home and now thinks there is no safe way for her to return to her old life.
"I cannot go back to Iran. I would be arrested at the airport and put in jail," she said.
An unnamed Swiss asylum centre is now her home and she told the country's media that Iranian have already visited her parents and siblings to try to track down her location. Amini explained that the problems started when she uploaded images of the friendly match to her social media account.
She talked with some people in the Iranian FA, and although Amini said some people showed understanding, others branded her as a danger to the Islamic Revolution. Amini added that the officials' main problem was her playing soccer with men. They told her they may have overlooked the missing hijab.
"A high-ranking official told me it was obvious that I was working with the opposition and anti-Islamic groups. The officials of the Iranian Futsal Federation told me, 'When you are a member of an official team, you do not have the right to play without the veil even in non-official games abroad. We are living in an Islamic country. Why did you have to play with boys? You would have been disqualified from the team even if you had played with boys wearing a veil in Iran.'"
She fears that she became the target of the Iranian government after international media picked up her plight, especially after the US government-funded 'Voice of America' covered her case in a Persian language programme.
"I would not risk it again as I love my family and my country. I had a good life in Iran," Amini said.
She said she could not tell her parents the full story because of their advanced age. Amini said: "They think that the Swiss government gave me the opportunity to live here as a sports teacher."
Already speaking a bit of German and now habitually wearing her blonde-dyed hair uncovered, Amini told Swiss media that officials from the Ministry of News have already visited her parents and siblings to try to track down her location. Every day Amini goes out for a run, or in warmer days to play football with fellow asylum seekers.
"They are not very athletic, so not a challenge for me. Without football and sports my life is meaningless.
Speaking out against the decision, the footballer said sport is more important than any veil.
"The hijab should be an unimportant issue for us, the female players. However for the officials of the country, it seems to be a deal-breaker. I received a note from the federation to say not only had I played without a veil, but also I dared to play with boys. So I was disqualified and I was removed from the national team. I was told this behaviour would cause me a lot of headaches at home," she said.
Dr. Urs Goesken, a scholar of Islam at the University of Bern, said that he can understand Amini's fears of being arrested. Goesken said:
"In view of the fact that Iran is not a constitutional state and cases like this are probably treated not only legally, but also politically, it is not predictable for the person concerned, nor for outsiders, what would happen to Mrs. Amini on a return to Iran."
The Swiss State Secretariat for Migration (SEM) did not want to comment on Amini's case. In the next 30 days, Amini will find out whether her asylum request will be accepted. Amini said that her biggest hope is to "play in a Swiss team" if she is granted asylum, although she added there is one wish even greater.
"My greatest wish is to see my family," she said.