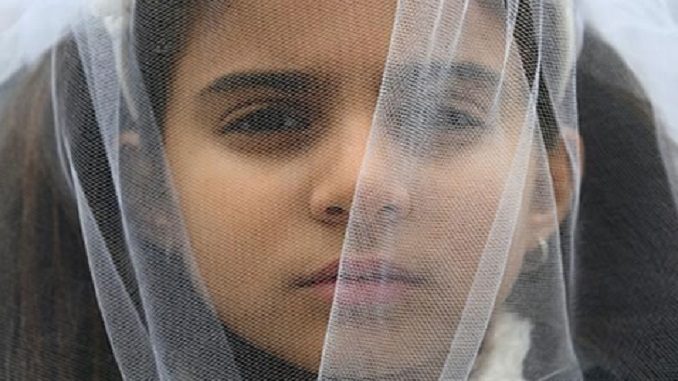 There are 2,000 child-widows in the country who are between the ages of 9 to 12, the state-run IRNA news agency cited the head of the Women's Fraction in the Majlis (Iranian regime parliament) on Dec 11, 2017, as saying.
"We have been raising the issue of child marriage in the Majlis for more than a year now, but unfortunately, the opposition from a number of women who have a responsibility is more than (men) to resolve this issue," Parvaneh Salahshouri said.
Recent researches carried out in seven provinces of Iran showed that the cause of 45 percent of the total number of girls' school drop-outs has been early marriage, according to the state-run Hoornews.com report on September 28, 2017.
According to a shocking report, in the first 9 months of the Persian year, 181,133 girls under the age of 19 got married, which accounts for 34 percent of the marriages (in Iran), according to the state-run Iran Online website on October 22, 2017. According to the Deputy Head of the Women and Family Department at the Presidential Office, the province of Khorasan Razavi ranks first in terms of child marriage with 6,759 cases; these are children, whose games suddenly turn serious, while their dolls turn into real children.
A social scientist Rayeheh Mozaffarian had previously revealed that every year 41,000 child girls under 15 years of age get married in Iran, according to the state-run IRNA news agency, July 30, 2017.
Amir Taghizadeh another official has announced that in the East Azerbaijan Province, alone, "about 4,000 girls between 10 and 15 years of age got married in 2015. The figure reached 4,164 in 2016," according to the state-run Kayhan daily newspaper, September 5, 2017.
Regarding the shocking levels of child marriages in Iran, Rarvaneh Salahsouri, head of the women's faction in the mullahs' parliament, made the above admission.
"Giving under-aged girls to marriage causes serious harms both to the individual and to society. 50% of early marriages lead to the deaths of the mother or her baby. There is also 70% higher chance of cancer in such mothers," Salahsouri said, according to the state-run Shafaghna website on December 14, 2017.
Salahshouri acknowledged the ineptitude of the regime's Parliament in the face of religious scholars.
"Even if the Parliament passes a bill against child marriages, it is not possible to take any measure to resolve this problem because such marriages are sanctioned by the Sharia laws," she said.
"Despite observance of gender segregation in the sports arenas, women's sport has gone under question due to numerous restrictions in force," she said, taking note of the dire conditions of women's sports.