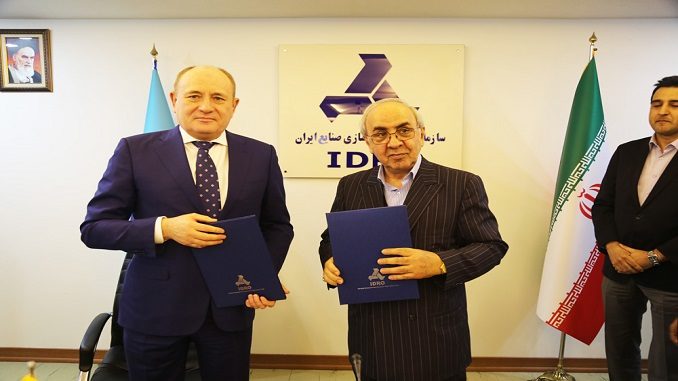 Russian gas giant Gazprom signed an initial agreement with Iranian state-run investment fund IDRO to cooperate in unspecified oil, gas and energy projects, Iran's state news agency IRNA reported on Sunday.
"The Industrial Development and Renovation Organization of Iran (IDRO) is fully ready to cooperate with Gazprom … and this memorandum of understanding (MoU) will help Gazprom take advantage of industrial opportunities in Iran," IRNA quoted IDRO Chairman Mansour Moazzami as saying.
Moazami pointed to 50 years of background of IDRO in the field of industry as well as oil and gas and expressed IDRO's readiness for full cooperation with Gazprom. He said that the MoU will help Gazprom to use the industrial opportunity in Iran.
The Vice-Chairman of Russian Gazprom Company Vitaly Markelov pointed to different fields of activities of the company and said that the company is active in 26 countries, and added that Gazprom intends to start a wide range of activities in Iran from primary works to completed phase.
Russian Energy Minister Alexander Novak had already said that Gazprom company intend to produce natural gas in Iran and then by constructing a pipeline for 1200 kilometers transfer the gas to India. He had added that the projects will be executed in 2018. The report did not give details of possible future joint projects by Gazprom and IDRO, which in August signed a joint venture deal with French carmaker Renault and an Iranian company.
According to Newsline, the countries will build a 1,200-kilometer long pipeline from Iran to India with the Russian energy major Gazprom developing several Iranian deposits along the route of the future pipeline.
"The project will be implemented with the participation of Iranian, Pakistani and Indian firms," said Novak.
The parties will work on the list of gas fields and prepare the necessary planning documentation. Construction is expected to start next year, according to the minister.
"This is a memorandum between the ministries. We have agreed to assist in the implementation of the project for gas supply from Iran to India. This is a large-scale project with Gazprom participation. The company will develop gas fields on Iranian soil with all the necessary infrastructure for gas supplies to India to be built," Novak said.
Novak didn't disclose how much it will cost but said it will be significant, as the pipeline will include an underwater part that will pass through the Persian Gulf.
Iran has been ramping up energy production to restore much of its lost market share since international sanctions were eased in 2015. However, decades of economic isolation and underinvestment left the country's oil and gas infrastructure outdated. International energy corporations took a chance to work in Iran with France's Total becoming the first to sign a deal to develop the country's South Pars fields. The company estimated the initial investment at a billion dollars.
Royal Dutch Shell, Italy's Eni, and Russia's Rosneft are among more than 30 foreign companies that have qualified for oil and gas projects in Iran since sanctions were lifted. American corporations are prohibited from working in the Islamic Republic except through foreign subsidiaries.