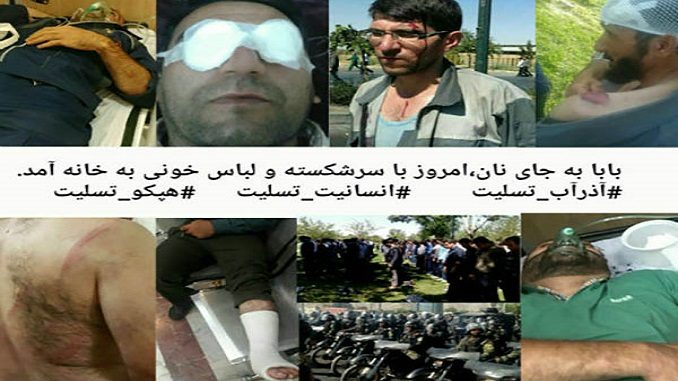 In Iran, labor protests and strikes have increased across the country with workers demonstrating against mass layoffs and nonpayment of wages in a situation in which the state has no feasible social security plan to assist the newly unemployed workers, Iran Focus reports.
Their employers, of whom many are government entities or private manufacturers closely affiliated with the state, hold back paychecks, as well as lay off employees without relief packages.
Iranian state is said to have attempted to crack down on the labor movement and halt protests by arresting workers and sentencing them to prison, but the increase in the number of labor protests in the past few months suggests that the Iranian labor movement is going to give more workers a voice to dissent.
On 19 September, reports surfaced of antiriot police attacked workers protesting between four to six months of unpaid wages at the Heavy Equipment Production Company (HEPCO) and the Azarab Industries in Arak, Iran. Workers were seen being attacked, as well as dozens wounded as they were being taken away, under arrest.
The strikes and protests are not limited to industrial sector. Over the past six months, civil servants, government workers, retired government workers, teachers, nurses, mine workers, and public transport employees have all protested.
Oil and gas workers, who once led relatively prosperous lives cannot feel secure anymore, after Haffari Shomal, an oil rig company, was reported to have laid off more than 70 of its workers on September 22nd. Last year the company is said to have laid off more than 150 workers, excluding 70 recent firings.
The government, under President Hassan Rouhani, and the state, represented by the Supreme leader Ayatollah Ali Khamenei, are in charge of the budget and monitoring of economic prosperity. But, under their leadership, oil prices have reportedly fallen from $120 to $40 a barrel. Officials say that the Iranian Rial dropped against major foreign currencies as of September 8th.
It is said that the Islamic Revolutionary Guards Corps (IRGC) has incurred huge financial costs for the Islamic Republic of Iran's interventions in Syria, Lebanon and Yemen. Reportedly, the IRGC shapes Iran's economy, and instead of boosting the economy, money is being spent on war.
But now, a strong labor movement is shaping, as seen in the visible rise in the number of labor strikes, rallies, protests and sit-ins in the month of September. Many have been attributed to workers demanding the release of their trade union activists or leaders, such as Reza Shahbi of the Trade Union of the Tehran and Suburbs Vahed Bus Company. Shahabi was arrested in 2010 and sentenced to six years in prison.