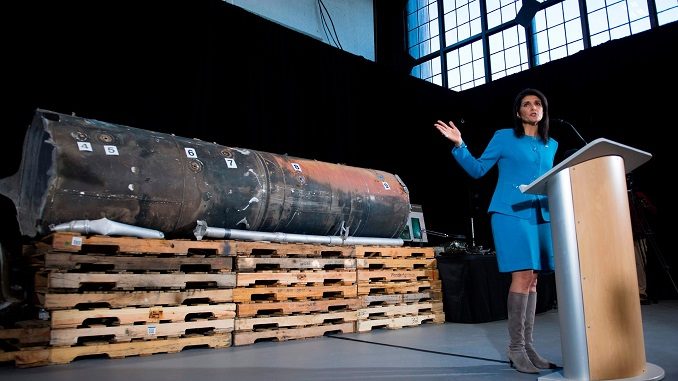 The U.S. has presented evidence that officials said proved that Iran had supplied short-range ballistic missiles to Houthi rebels in Yemen which were then fired at Saudi Arabia, The Guardian reports.
The U.S. envoy to the United Nations, Nikki Haley, made the presentation at Bolling Air Force base in Washington, which is the headquarters to the Defence Intelligence Agency. She said that the evidence would be used to convince Congress and UN member states of the threat to peace represented by Iranian missile proliferation in the Middle East.
U.S. officials have seized on a series of missile strikes by a Yemeni rebel group against Saudi Arabia as an opportunity to intensify global pressure on Iran. At an elaborately staged presentation at a Washington military base, Haley showcased weaponry that she said constituted "undeniable" proof that Iran had expanded its support for Houthi rebels in Yemen as it continues to back armed groups in Lebanon, Syria and other countries.
"This evidence demonstrates a pattern of behavior in which Iran sows conflict and extremism," ­Haley said, flanked by an array of mangled missile parts, a broken-up drone and other weaponry recovered by Persian Gulf allies of the United States.
Haley said the supply of missiles to the Houthis was a violation of a UN resolution, but stressed that the U.S. was not seeking to use the evidence as a reason to walk out of the 2015 multilateral agreement on Iran's nuclear programme.
"The nuclear deal is not something we are focused on now. Everything doesn't have to be tied to the nuclear deal, but it does have to be tied to the Security Council resolution. Everybody has tiptoed around Iran in fear of them getting out of the nuclear deal and they are allowing missiles like this to be fired over to innocent civilians and hurt and that is what has to stop," she told journalists.
The focus of Haley's presentation were remnants of what officials say are two ballistic missiles manufactured in Iran, smuggled into Yemen and used by Houthi fighters to launch a series of attacks this year on targets deep within Saudi Arabia, including one of the country's busiest civilian airports.
U.S. officials point to design features and markings — described as being from government-run defense firms — that indicate the missiles are Iranian Qiam short-range ballistic missiles.
"The weapons might as well have had 'Made in Iran' stickers all over" them, Haley said, accusing Iran of violating U.N. Security Council resolutions.
While administration officials have already privately briefed allied officials on the new information, it is unclear whether it will be enough to sway European and other U.S. allies that continue to back the nuclear deal and may be reluctant to embrace new punishments against Tehran.
Jarrett Blanc, who served as a senior official on the Iran deal under the Obama administration, said European countries did not share the United States' "pathological fear" of Iran but are worried about Iran's military support for groups such as the Shiite Houthis in Yemen.
"The question is, what do the Europeans need in terms of confidence that the United States is not going to blow up the [Iran deal] in order to do something on ballistic missiles?" said Blanc, who is now a senior fellow at the Carnegie Endowment for International Peace.
Successive U.S. administrations have warned of Iran's malign influence in the Middle East, but lying in a hangar at Joint Base Anacostia-Bolling is concrete proof that the Iranian regime is exporting arms to sow instability and promote violence throughout the region, the U.S. Department of Defense reports. In the hangar are three intact Iranian weapon systems and debris from a fourth, recovered from the battlefields of the Middle East that can be directly traced to Tehran.
"The equipment in the hangar is proof of Iran's malicious strategy. We present this evidence so that we, our allies and international partners — including organizations like the [United Nations] — can be clear eyed about Iran's activities as we work together. Specifically, the hangar contains "objects that provide evidence of Iranian weapons proliferation in violation of U.N. Security Council resolutions 2216 and 2231," Laura Seal, a Defense Department spokesperson said.
The weapons systems on display were retrieved from battlefields in the Middle East by U.S. partners in the region — primarily Saudi Arabia and the United Arab Emirates. The four systems are a short-range ballistic missile, an antitank guided missile, an unmanned aerial vehicle and exploding boat technology.
"All four include parts made by [the] Iranian government-run defense industry, and all could have only come from Iran. There are pieces of two Iranian Qiam missiles launched from Yemen into Saudi Arabia. One targeted the Yanbu oil facility, and the other was aimed at King Khalid International Airport. Only Iran makes the Qiam," Seal said.
The public affairs blitz in Washington takes place as a punishing three-year-old civil war continues in Yemen. The U.S. has provided military support to Saudi Arabia, which leads a coalition of Arab states that entered the war in March 2015 to beat back what Saudi Arabia said is an Iranian proxy force. While analysts said at the outset of the conflict that the Saudi claims were exaggerated, most agree the war has driven Shiite Iran and the Houthis toward greater cooperation.