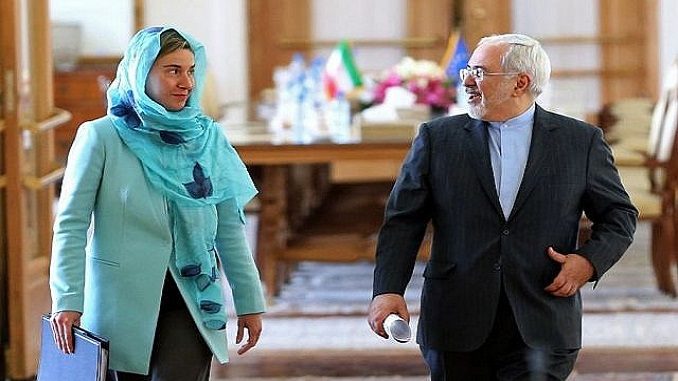 The EU pushed Iran on Monday to guarantee the right to protest, as authorities moved to crack down on days of unrest across the nation. The protests, which broke out Thursday, have quickly grown to become the biggest test for the regime since mass demonstrations in 2009, The Times of Israel reports.
"We have been in touch with the Iranian authorities and we expect that the right to peaceful demonstration and freedom of expression will be guaranteed. We will continue to monitor developments," a spokeswoman for the bloc's foreign policy chief Federica Mogherini said in a statement.
The latest demonstrations on Monday came despite President Hassan Rouhani's vow that the nation would deal with "rioters and lawbreakers." The total death toll linked to the protests currently stands at 13. Authorities have confirmed more than 400 arrests since the outbreak of the unrest, of whom around 100 have been freed.
Rouhani came to power in 2013 promising to mend the economy and ease social tensions, but high living costs and a 12 percent unemployment rate have left many feeling that progress is too slow.
Mogherini's comments were echoed by the UK and Germany. British Foreign Secretary Boris Johnson issued a statement late Monday saying "there should be a meaningful debate about the legitimate and important issues the protesters are raising and we look to the Iranian authorities to permit this.
"We regret the loss of life that has occurred in the protests in Iran, and call on all concerned to refrain from violence and for international obligations on human rights to be observed," he said.
German Foreign Minister Sigmar Gabriel also said in a statement that "after the confrontation of the past days it is all the more important for all sides to refrain from violent action." Both the UK and Germany were part of the 2015 nuclear deal.
"The heroic people of Iran are demonstrating against the religious dictatorship. They have had enough of the high costs of living, government corruption, and dreadful living conditions. They are shouting Death to Khamenei, Death to Rouhani, Down with the Dictator, Free Political Prisoners in Iran. As Vice-President of the European Parliament, I express my full solidarity with the people of Iran who want a regime change," EP Vice President Ryszard Czarnecki said in the following press release on December 31, 2017.
Also, Gérard Deprez MEP, the President of Friends of a Free Iran in the European Parliament in a separate statement on December 30, 2017 called on "the EU High Representative Ms. Mogherini and the European governments to publicly express solidarity with the current uprising of the Iranian people and to strongly condemn the brutal reaction of the Iranian government and the security forces against the peaceful demonstrators."