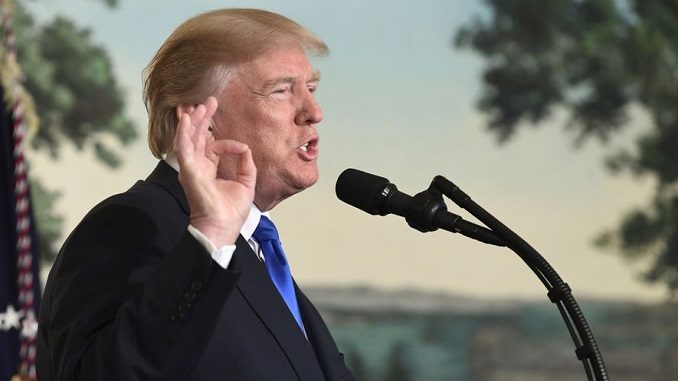 Congress is about to miss what was widely seen as a deadline to deal with U.S. President Trump's demands for a harder line on the Iran nuclear deal, failing to agree on new sanctions against Tehran and punting the future of the deal back to Trump, The Washington Times reports.
A Republican legislative push to establish new "triggers" that could reimpose harsh sanctions on Iran lifted under the Obama-era deal has gone nowhere ahead of Tuesday — the end of a 60-day unofficial deadline set by the administration for Capitol Hill to weigh in on the situation after Trump declared he could no longer certify that the accord was in the U.S. national interest.
Congressional aides say lawmakers still have time to propose something before Trump is mandated to decide again whether to weigh in on the deal, but White House aides say the president is rankled by the lack of progress on Capitol Hill and likely will pull the United States out of the deal entirely when it comes up for review on Jan. 13.
According to a law enacted by Congress in 2015, the president must certify every 90 days that Iran is honoring the deal and that it is in the U.S. national interest. In this respect, Trump had asked legislators to propose ways to modify what he called the agreement's "serious flaws," foremost the so-called "sunset clauses" that fully expire after fifteen years, as well as its failure to hold Iran accountable for its ballistic missile tests, which contravene existing UN Security Council resolutions.
The other signatories to the deal—France, Britain, Germany, China, and Russia—have all urged the White House to uphold the agreement, which they, in addition to United Nations atomic inspectors, claim the Islamic Republic is abiding by. They have likewise shown little appetite for renegotiating aspects of the accord amid fears that doing so could cause Tehran to push towards a nuclear breakout.
A Congressional deadline for taking action on Iran expires on Tuesday, handing the fate of a historic nuclear deal with Tehran back to Donald Trump and increasing doubts about its future. The U.S. president vowed in October to scrap the agreement unless Congress and U.S. allies intervened to fix his concerns. In January, he faces deadlines to recertify the deal and waive sanctions or break the pact, with no signs of success in Congress in helping to find a way through.
The looming deadline has alarmed European allies, at a time when many of them doubt America's word and believe a similar deal with North Korea is crucial to avert nuclear war.
"It doesn't look like we're going to see any action from Congress," a European diplomat said on Monday.
A western diplomat said foreign officials who were lobbying Congress hard were also wary of being caught up in domestic U.S. politics. Republicans have urged European diplomats to help them fix the deal while Democrats have urged them to avoid anything that leads to its collapse. But Mark Dubowitz, chief executive of the Foundation for Defense of Democracies who has lobbied the White House on ways to overhaul the deal, described European initiatives to counter Iran and placate Trump as "weak tea", and said Congress had failed to bring about the bipartisan fix requested by the president.
"I think there will remain a significant risk that Trump carries an ax over the deal for the rest of his presidency. It may be that the less that Congress and Europeans do to fix the deal, the greater the chance is to nix the deal," said Dubowitz.
Trump's attempts to get a solution have become fraught with administration infighting and bogged down in messy lawmaking procedures. Senior administration officials had hoped Congress would stop short of scuppering the deal by refraining from reimposing nuclear sanctions, but instead might find what secretary of state Rex Tillerson called "a third pathway" to assuage Trump's concerns.
Republican senators Bob Corker and Iran hawk Tom Cotton in October developed a legislative proposal with the White House that would amend INARA (the Iran Nuclear Agreement Review Act), relieving Trump of certifying every 90 days, tightening the deal and making it contingent on Iran's regional activities, a move opposed by Iran and European allies. But congressional staffers, administration officials and diplomats told the Financial Times that efforts to introduce draft legislation to amend INARA have so far come to naught.
"No one has started any negotiation over the text; the White House hasn't offered it as negotiated text and it's the only thing that's out there," said a former senior Obama administration official about the Corker-Cotton plans.
Democrats and diplomats striving to save the deal feel caught in a Catch 22 situation. If Trump fails to get his fix, they may be blamed if he pulls out. If they co-operate, they risk violating U.S. obligations or falling foul of Europeans.
"He's thrown the potato to us," the staffer said of Mr Trump.
In a sign that the Trump administration is pursuing its harder line against Iran, the state department confirmed on Monday that Iran director and Obama holdover Chris Backemeyer has been replaced by Andrew Peek, a Trump loyalist who worked on the transition.