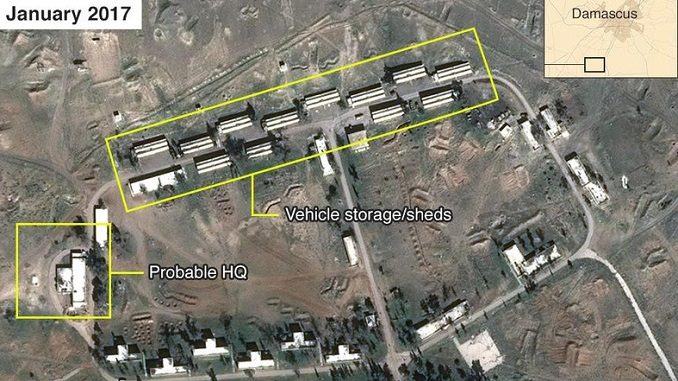 Iran is establishing a permanent military base inside Syria, a Western intelligence source has told the BBC. The Iranian military is said to have established a compound at a site used by the Syrian army outside El-Kiswah, 14 km south of Damascus. The report comes amid growing tensions over Iranian influence in Syria and across the region.
Israeli PM Benjamin Netanyahu recently warned that Iran wanted to establish itself militarily in Syria.
"Israel will not let that happen," he said.
Satellite images commissioned by the BBC seem to show construction activity at the site referenced by the intelligence source between January and October this year. The images show a series of two dozen large low-rise buildings – likely for housing soldiers and vehicles.
In recent months, additional buildings have been added to the site. However, it is impossible to independently verify the purpose of the site and the presence of the Iranian military.
An official from another Western country told the BBC that ambitions for such a long-term presence in Syria would not be illogical for Iran. Its adversaries have accused Iran of seeking to establish not just an arc of influence but a logistical land supply line from Iran through to the Shia Hezbollah movement in Lebanon.
With so-called Islamic State (IS) suffering major defeats on the battlefield and losing its last strongholds, attention is increasingly turning to what comes next and the new map of power and influence in Syria.
Iran has been a consistent backer of the regime of President Bashar al-Assad. Photographs published on social media in the past few days also showed a senior Iranian general in Deir al-Zour shortly after IS was driven out of the town.  The photos show Maj Gen Qasem Soleimani, head of the Quds force of the Islamic Revolution Guards Corps (IRGC) alongside members of a militia.
With a significant number of IRGC fighting – and in some cases dying – in Syria, there has already been a significant presence in the country but the question is now whether they are preparing to remain in the long term.
The images of the base do not reveal any signs of large or unconventional weaponry which means if it was a base it would most likely be to house soldiers and vehicles. One source said it was possible that senior Iranian military officials may have visited the compound in recent weeks.
Independent analysis of the images commissioned by the BBC says the facility is military in nature. The analysis also suggests there are a series of garages that can hold six to eight vehicles each. The analysis suggests new buildings have been constructed and other buildings renovated in the past six months although the exact role of the new structures cannot be determined.
However, it is not clear whether the facility is currently occupied. Shia fighters from other countries – including Pakistan and Afghanistan – are also alleged to be operating in Syria under the control of the IRGC and it is possible the base could be used by them. Analysts estimate up to 500 troops could be based at the site.
The presence of Iranian forces in Syria has been reported for some time but the claim of a potentially more permanent Iranian base raises the possibility of military action by Israel which has repeatedly warned it will not tolerate such a development.
The base lies about 50 km from the Golan Heights – Syrian territory occupied and then annexed by Israel and where it now has a significant military presence.
"As Isis [IS] moves out, Iran moves in. Iran wants to establish itself militarily in Syria, right next to Israel. Israel will not let that happen," Netanyahu tweeted on Sunday.
Netanyahu said last week that the threat posed by Iran to its Middle Eastern neighbors was driving them into hitherto unthinkable alliances with the Jewish state.
"Iran is devouring one nation after the other.  It is doing so either by direct conquest or by using proxy. They took over Lebanon, Yemen… they try to do the same thing with Iraq, in Syria. The good news is that the other guys are getting together with Israel as never before. It is something that I would have never expected in my lifetime," Netanyahu said at Chatham House, the Royal Institute of International Affairs think tank in London.
The issue of potential Iranian military bases is likely to have been raised by Israeli officials with Syria's ally Russia. In October, Russia's defence minister was in Jerusalem and was told by Netanyahu that Israel would not allow the Iranian military "to gain a foothold in Syria", according to reports at the time.
"Iran had come into the Syrian war to Lebanonize Syria economically and militarily. But Israel would not let Iran come to dominate Syria. They want to leave their army, their airbases and fighter aircraft within seconds of Israel and we are not going to let that happen. We do not say that lightly. We mean what we say and we back it with action," he vowed.