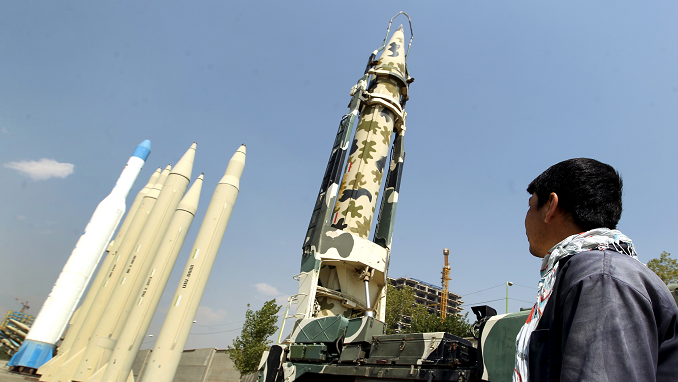 In a decade or so, Iran could become a major nuclear force—and an entirely legal one according to the international nuclear agreement, experts fear, Fred Lucas, a White House correspondent says for The Daily Signal.
"In about 10 years time, Iran will have, thanks to this deal, an industrial-sized nuclear program," said Mark Dubowitz, CEO of the Foundation for Defense of Democracies, during a Heritage Foundation forum Wednesday.
"All they have to do is wait until the key restrictions on the deal sunset and they will emerge with a legal, internationally recognized, industrial-sized nuclear program."
Iran's economy could also increase enough that it would be somewhat immunized from the U.S. sanctions unless policy changes are made now.
"If you like what North Korea is doing today, you're going to love what Iran is going to be doing a few years down the road," James Phillips said, a senior research fellow at The Heritage Foundation.
"Just as the 1994 agreed formwork with North Korea failed to stop that country's nuclear ambitions, I think future historians will eventually say the 2015 Iran nuclear agreement also failed to stop Iran's nuclear ambitions."
While Dubowitz and some other national security experts who attended a forum held Wednesday by The Heritage Foundation has opposed the U.S.-led multilateral nuclear agreement with Iran, they would prefer to at least see enforcement of this agreement—known as the 2015 Joint Comprehensive Plan of Action. Iran officials rejected the U.S. demands that the International Atomic Energy Agency have access to inspect Iran's military sites, which is part of that agreement.
"We were told by the Obama administration over and over again that we would get access to all sites, including military sites," Dubowitz stated.
"There is no way to verify this nuclear deal if we can't get into their military sites because guess where they are actually going to conduct illicit activity? Guess where they are going to design warheads? Guess where they are going to manufacture advanced centrifuges that exceed the limits permitted under the JCPOA? Guess where they're going to do that? They're going to do that in sites where they deny us access," Dubowitz continued.
"We have to make it, as a matter of U.S. policy, make it very clear that without physical IAEA access to military sites, there is no deal."
Israeli Prime Minister Benjamin Netanyahu said that Iran is producing precision weapons in Syria and Lebanon. Iran is likely to become the biggest danger to the world, Phillips of The Heritage Foundation said. He added that Iran is even much more dangerous regime than North Korea.
"It has a much stronger economy, a much more potent ideology, many more friends, allies, and surrogates around the world and in the region and it has a much more aggressive record of regional interventions," Phillips said.
"The Persian Gulf is the center of gravity of world oil production. So if Iran is able to establish dominance over the flow of that oil, it will be tremendous energy security, national security, and perhaps long-term economic repercussions cascading out of that."
Phillips said it's important to build relations with allies in the region, such as members of the Gulf Cooperation Council, made up of Bahrain, Kuwait, Oman, Qatar, Saudi Arabia, and the United Arab Emirates. Trump also has issued some warnings to Qatar for its connection with terrorist groups.
Jim Hanson, who is the president of the Security Studies Group, stated that Trump is doing a strong job in building alliances with the much more moderate Arab countries—many of which opposed the Iran deal.