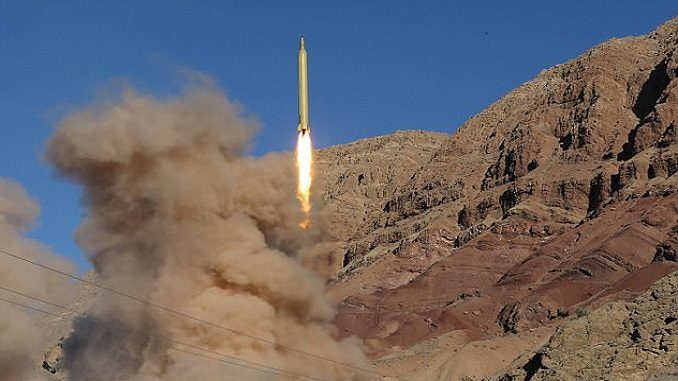 Iran has aggressively pursued its ballistic missile program since agreeing to the 2015 nuclear deal, regularly launching nuclear-capable missiles in what critics consider a violation of the spirit of the deal, according to a report obtained by Fox News.
The report shows Iran has fired some 23 missiles since signing the deal, as many as 16 of them nuclear-capable. The controversial deal reached with the Obama administration did not include a ban on missiles, and Iran and European signatories to the agreement stress international inspectors have certified Iran in compliance. But critics say the robust missile program shows the Islamic republic is bent on intimidating its enemies and preparing for the day when it can do so with the ultimate weapon of mass destruction.
"Out of all the ballistic missiles Iran fired in 2017, only four or five missiles can be considered nuclear-capable. In 2016, Iran fired 10 to 11 missiles that can be considered nuclear-capable. It is highly likely that the administration's threat intimidated Tehran, altering its flight-testing calculus," according to a report by the Foundation for Defense of Democracies.
The report also cites an Iranian outlet quoting Iran's Islamic Revolutionary Guard Corps as it complained of testing delays over concerns of a potential response by the United States. Iran nuclear deal's opponents, like the Trump Administration, argue the nuclear agreement emboldened Iran's non-nuclear activity such as its support of extremism, ballistic missile development, and cyber attacks.
"The report, though, has identified as many as 23 ballistic missile launches by Iran since the conclusion of the July 2015 nuclear deal," wrote its author, Behnam Ben Taleblu, a senior Iran analyst at the foundation.
The nuclear agreement's supporters point out that the deal was designed only to address Iran's nuclear program. They — notably the European governments that are also signatories to the agreement — stress that international inspectors have certified Iran as being in compliance. The deal's opponents, including the Trump administration, argue that the nuclear agreement has emboldened Iran's non-nuclear activity – its support of extremism, ballistic missile development, and cyber attacks.
President Trump has threatened to pull the U.S. out of the Iran deal by May if European nations refuse to agree to changes. Secretary of State Rex Tillerson is traveling this week in Europe, meeting with counterparts. State Department officials said staffers are already beginning Iran talks in Europe. Boris Johnson has agreed Iranian missile activity needs to be kept in check.
"I'd say there was a pretty wide measure of agreement on the European side about the need to look at what Iran is doing on the ballistic missile front and to work out what we can do collectively to constrain that activity and to make a big difference there,"the United Kingdom Foreign Secretary Boris Johnson said after meeting with Tillerson.
Previously, video has emerged of missiles being launched from the Islamic Republic with the capability of carrying multiple nuclear warheads – as Iran stretched the terms of the nuke deal. Iranian President Hassan Rouhani has vowed to INCREASE the country's military power.
"We will not seek permission from anyone to defend our country," he told his nation.
European governments largely want to stay in the nuclear agreement, and their support of further measures against Iran's missile program could potentially keep it together if it satisfied the president.
It was also a hot-button issue that Speaker of the House Paul Ryan spoke about on Thursday, as he attended a conference in the United Arab Emirates.  Speaking in the capital Abu Dhabi, Ryan said the Islamic Republic was seeking to expand its influence in the region at the expense of staunch U.S. allies like the UAE and Saudi Arabia and needed to be constrained by sanctions.
The United States and other major powers lifted broad sanctions on Iran after a landmark deal over its nuclear program in 2015, but Washington has since slapped Tehran with new sanctions over its long-range missile program.
Ryan said the European Union should follow suit, underscoring a 120-day ultimatum President Donald Trump gave the U.S. Congress as well as the European allies, Britain, France, Germany to come up with a tougher approach toward Iran or else see the President reimpose full sanctions.
'Look at their violations of missile testing, look at what they're doing in the region, look at what they're doing in Syria, look at what they're doing in Yemen. There's more than we can do from the economic side. We have the tools we can use along with our allies … that's the discussion we're having about tightening up sanctions and trying to get Europe involved in that,' Ryan said.
Iran has one of the Middle East´s largest missile programs and some of its precision-guided missiles have the range to strike Israel. Tehran has repeatedly said its missile program is defensive and not negotiable.
Sunni Muslim Saudi Arabia, the UAE, and other Arab countries accuse Iran of stoking wars and political crises around the region by supporting its Shi'ite co-religionists. Tehran denies the charges and accuses Gulf Arab states of being pawns of Western powers seeking to dominate the region and advance the interests of its foe – Israel.