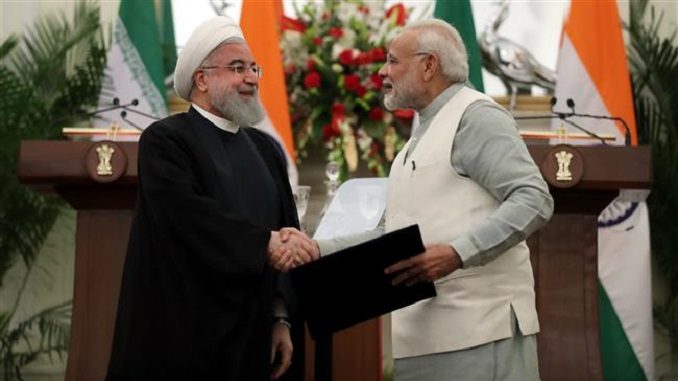 Iranian President Hassan Rouhani and Indian Prime Minister Narendra Modi have expressed readiness to expand relations between their countries in all areas, Press TV reports. President Rouhani and Prime Minister Modi expressed their respective countries' preparedness for the enhancement of the relations at the Indian prime minister's Hyderabad House in the Indian capital on Saturday.
The Iranian chief executive, who started a three-day visit of India at Modi's invitation with an initial stop in the southern city of Hyderabad on Thursday, arrived in New Delhi on Friday. Rouhani said it was incumbent on the countries' politicians to deepen the historical amity between the nations in all cultural, economic, and commercial areas.
"Iran and India's ties are not to any country's detriment. There are expansive capacities for the development and deepening of Iran and India's relations, which should all be seized upon more than ever toward the interests of and creating a better future for the nations and the region," he said.
Modi, for his part, said many obstacles had been removed from the way of expanding bilateral economic relations, prompting many mutual investment projects to bear fruit and accelerating the trend of growth in mutual ties.
"Indian companies are ready to further their investment in the areas of mutual cooperation, including oil and gas," he said.
During the visit, the two sides signed 15 documents enabling the expansion of cooperation in various areas. PM Modi and Mr Rouhani held "substantive and productive discussion on cooperation in trade and investment, energy, connectivity, defence, security and regional issues," External Affairs Ministry spokesperson Raveesh Kumar tweeted, adding the meeting was on the theme of "civilizational connect, contemporary context".
India and Iran have been hoping to iron out several issues, particularly the progress on the deepwater Chabahar Port that Iran feels has got stuck due to the US pressure on other countries and the latest set of sanctions against Iran. India is already routing a consignment of 1.1 million tonnes of wheat to Afghanistan through Chabahar port. The $85 million port project, just 90 km from the China-sponsored Gwadar port in Pakistan, is significant as it gives a transit route between India, Iran and Afghanistan bypassing Pakistan.
Oil and gas cooperation were the other issues on the table. India imports oil and gas from Iran, but negotiations have been pending on Farzad-B gas and oil fields in south Iran, which India has expressed interest in.
"Iran has abundant oil and natural gas resources and is willing to share them with India for its progress and prosperity of (its) people," Rouhani said in Hyderabad.
India and Iran said Saturday that they would also step up cooperation in combatting extremism, terrorism and drug trafficking, and restoring peace and stability in war-wracked Afghanistan.
"We both will work for restoring peace, stability, prosperity and a pluralistic system in Afghanistan," Modi said.
Rouhani He said Afghanistan must be "a vivacious and secure country," adding that Iran and India would also cooperate in dealing with the situations in Iraq, Syria and Yemen. He said that Shias, Sunnis, Kurds and Christians lived together in Iraq and the same was true of Syria till the West created a discord there.
"We want to spread peace and also engage in dialogue while defending our rights. In case of need, we do believe in resistance and steadfastness," he said.
Iran is a key stakeholder in the future of those nations.
That the Iranian president chose India to call for unity among the Shia and Sunni communities is significant given India's growing multi-faceted partnership with both Iran and Saudi Arabia, experts said. India has been able to maintain a balanced foreign policy outreach to engage with both the countries at the same time, they said. Pointing out that there can be no military solution to conflicts, Rouhani said that Iran seeks brotherly relations with all Muslims nations and the countries of the region including India.
The Iranian president said the enemies of Islam were trying to portray Islam as a religion of violence. "The fact is that Islam is a religion of moderation, tolerance and forgiveness," he said, quoting extensively from Quran and the sayings of Prophet Mohammad.