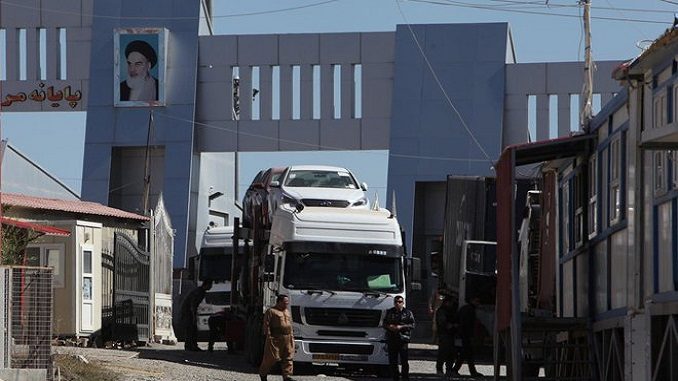 Iran opened a border crossing with the Kurdistan region of Iraq Wednesday which was closed after a referendum on independence, Iranian state media reported as quoted by Arab News.
The decision comes on the same day as the Kurdish Regional Government offered to put their independence drive on hold, stepping up efforts to resolve a crisis in relations with Baghdad via dialogue rather than military means.
"After the referendum and changes within the Kurdistan region, our borders with the Kurdistan region of Iraq were closed… today the Bashmagh border is open," Jahangir Bakhshi, the head of customs for the border crossing, said, according to the Islamic Republic of Iran Broadcasting (IRIB) news agency.
The report made no mention the KRG's offer for resolving the dispute through talks.
The Bashmagh border crossing is located approximately 50 kilometres east of the city of Sulaimaniya in Iraqi Kurdistan and there is approximately 20 billion dollars of annual cross border trade through the Bashmagh border point.
Previously, the Kurdish media network Rudaw reported that border crossings between Sulaimani province and Iran will reopen on Wednesday, a week and a half after they were shut by Iran.
"The border crossings will be open for both travel and trade, Sirwan Mohammed, head Sulaimani's Chamber of Commerce," told Rudaw.
There are two crossings between Sulaimani and Iran: Parviz-Khan and Bashmagh. The mayor of Mariwan, on the Iranian side of the Bashmakh border, has confirmed that crossing will be open on Wednesday, according to local media reports.
The Iranian consulate in Erbil said the border crossings were being reopened at the request of the Sulaimani Provincial Council and families of the victims of the Halabja chemical attack. Earlier, the head of the Sulaimani Provincial Council, Azad Mohammed Amin, told reporters that they had made such a request of the Iranians.
A third border point connects Erbil province with Iran at Haji Omaran. There are no reports that it will also be reopened.
Iran closed all three border crossings on October 15 under order from Tehran, though semi-official crossings such as Halabja's Tawela gate were still functioning.
Tehran has condemned Kurdistan's independence referendum and has stated it will coordinate with Baghdad to take measures against the Kurdistan Region. Iran was the first country to close its airspace to flights in and out of the Region the day before the September 25 referendum at the request of Baghdad.
Iranian military officials have advised Iraqi Shi'ite forces as they took control of the disputed areas from Kurdish forces last week. Iranian officials have described Kurdistan's independence bid as an American-Zionist plot to create a new Israel.
Iraqi Prime Minister Haider al-Abadi is expected to visit Tehran on Wednesday for meetings with Supreme Leader Khamenei and President Hassan Rouhani.