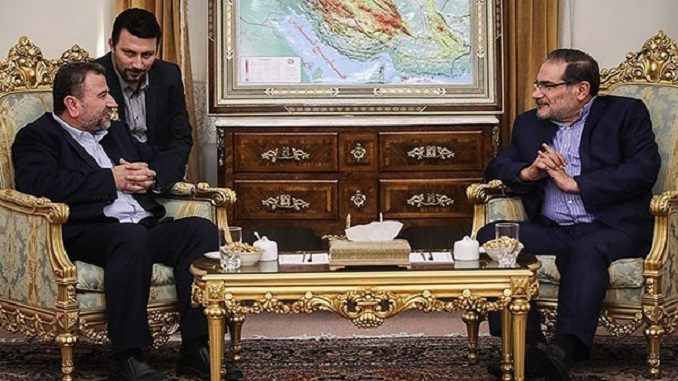 A top aide to Iranian supreme leader Ali Khamenei praised Hamas for not abandoning its armed struggle against Israel, during a meeting Saturday with the terror group's visiting delegation in Tehran.
"We congratulate you for declaring that you will not set your weapons aside and for describing it as your red line," said international affairs adviser Ali Akbar Velayati, according to the semi-official Fars news agency.
In a separate meeting Saturday, Admiral Ali Shamkhani, Iran's secretary of the Supreme National Security Council, sent a similar message to the terror group, expressing hope that Hamas would continue to be a "central pioneer of the Palestinian resistance," according to Iran's Press TV. During the meeting, Shamkhani condemned ostensible American and Israeli attempts to remove the Palestinian issue from the international agenda, the report said.
"The U.S. and the Zionist regime feel threatened by any balance shift in the Middle East in favor of regional people and governments engaged in the fight against terrorism. They seek to obstruct the path of anti-terrorism fight by bringing up unfounded pretexts such as blocking Iran's regional sway," Shamkhani said.
Hamas deputy chief Salah al-Arouri, who is leading the delegation, thanked Iran for its patronage and noted that senior officials in the West Bank and the Gaza Strip were interested in expanding ties with Tehran. Aruri noted that Israel had set three preconditions for the beginning of negotiations, including the disarmament of Hamas, recognition of Israel, and severing ties with Iran.
"In response to the first prerequisite that was disarmament of Hamas, we have declared that we don't accept it at all," he said, adding that they also totally reject the second condition of recognizing Israel. "Our presence in Iran is the practical denial of the third precondition that was cutting ties with Iran," Aruri stressed.
He commended Iran's important support for the Palestinian people and said Hamas leaders are determined to boost cooperation with Iran. He also condemned Takfiri groups' acts of violence in the name of Islam and said such inhumane measures are aimed at serving the interests of the U.S., Israel and their allies.
The high-ranking Hamas delegation began its visit to Iran on Friday to inform its backers in Tehran about reconciliation efforts with rival Palestinian faction Fatah, an official from the terror group told AFP.
Aruri is leading a high-ranking Hamas delegation which arrived in Tehran on Friday for talks with Iranian officials including Ali Akbar Velayati, a senior adviser to Leader of the Islamic Revolution Ayatollah Seyyed Ali Khamenei.
On Thursday, the head of Hamas said that "no one" can force it to disarm or recognize Israel after the U.S. demanded the resistance movement meet those conditions as part of an emerging Palestinian unity government. Hamas rejects "blatant interference" by the U.S. in Palestinian affairs and says the nation has the right to choose a government based on its "strategic interests."
"No one in the universe can disarm us. On the contrary, we will continue to have the power to protect our citizens. No one has the ability to extract from us recognition of the occupation," Yahya Sinwar said.
Israeli Prime Minister Benjamin Netanyahu's cabinet said in a statement on Tuesday that Tel Aviv would not engage in negotiations with a future Palestinian unity government that had the backing of Hamas. Both Hamas and its Ramallah-based rival Fatah were quick to brush off Netanyahu's threats, with the Palestinian Authority saying such a hostile stance would not affect the nation's resolve to pursue its goals.