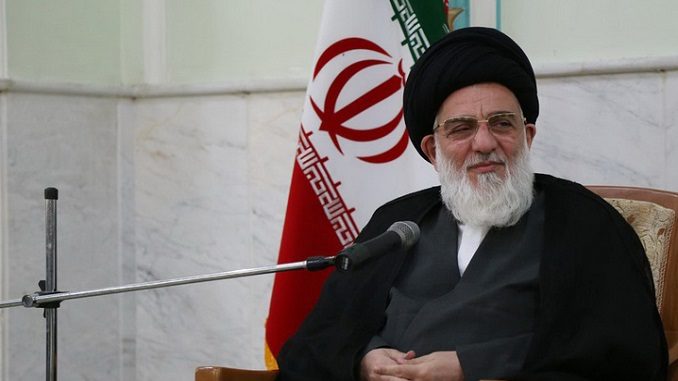 A top Iranian religious figure left Germany on Thursday after facing the threat of being charged with alleged crimes against humanity, Reuters reported.
Ayatollah Mahmoud Hashemi Shahroudi – considered a successor to Supreme Leader Ali Khamenei – fled Germany, where he was receiving medical treatment for a brain tumor and headed home to Iran, a German official said.
Critics accuse Shahroudi, who headed Iran's judiciary system from 1999 to 2009, of imposing executions on 2,000 people, including adolescents. He was in Germany for treatment at the clinic of Iranian-German neurosurgeon Majid Samii when activists referred him to prosecutors, citing what they called his record of passing death sentences.
The National Council of Resistance of Iran (NCRI), an exiled opposition group, said his issuing of "thousands" of death sentences amounted to a crime against humanity and urged German prosecutors to investigate.
Prosecutors said they were investigating the referrals, including one from senior Green politician Volker Beck. Later, the NCRI reported that Iran had reserved tickets for Shahroudi and his entourage to leave the country.
"Germany has a choice," Dr. Michael Rubin, an Iran expert with the American Enterprise Institute in Washington, told the Jerusalem Post on Thursday. "Does it want to be a safe haven for terrorists and mass murderers? Alas, for Sigmar Gabriel [Germany's foreign minister], it seems that the answer was and is 'yes.' But why should principle matter if German businesses can make an extra million euros?"
While Germany, like all European Union countries, opposes the death penalty, German prosecutors do not automatically act on cases referred to them involving executions in foreign countries.
An NCRI activist condemned Shahroudi's departure. "He should have been prosecuted for thousands of executions in Iran," said Shahin Gobadi, a member of the NCRI's foreign affairs committee.
He said the committee had filed a formal complaint with prosecutors, accusing Shahroudi of committing crimes against humanity and urging Berlin to prevent the cleric from leaving Germany.