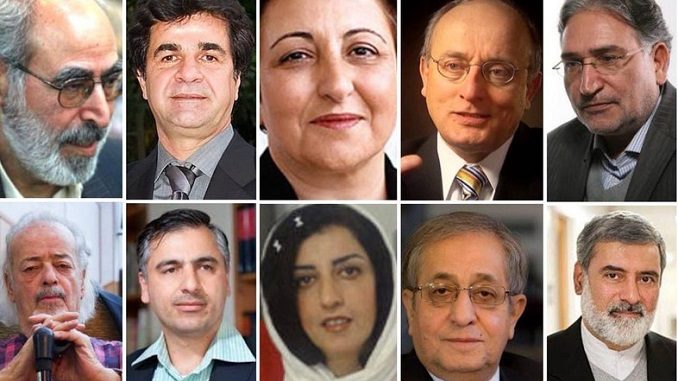 A group of prominent Iranian intellectuals has said they have lost hope that the Islamic Republic can reform, and have called for a referendum to establish whether the ruling establishment is still backed by a majority, The Guardian reports. Signatories to the letter include the Nobel peace prize-winning lawyer Shirin Ebadi; Narges Mohammadi, a human rights activist currently imprisoned in Tehran; Nasrin Sotoudeh, a rights lawyer; and the film-makers Mohsen Makhmalbaf and Jafar Panahi.
A day after Iran's president, Hassan Rouhani touted the idea of holding a referendum as a means to heal Iran's deepening political divisions, 15 figures – including some based in Iran – said leaders had failed to deliver on republican ideals. Rouhani did not elaborate on what he was proposing to put to a vote, but he has sounded increasingly frustrated about the political stalemate.
The statement slammed the "oppressive irreparable regime" in Iran.
"It has hidden behind religion for the past four decades leading to a political deadlock and destroying the opportunity towards reform," they said, adding that the regime "obstructs the Iranian people's freedom."
Their call to hold a general referendum is based on people's right to self-determination.
"To overcome this crisis, the current Islamic regime must be peacefully abandoned. (The country) must move forward towards establishing a parliamentarian system according to democratic bases that guarantee freedom of expression, end discrimination against women and solidify the principle of equality among men and women and people of different religions and sects," they added.
The judiciary has limited his ability to improve social freedoms despite his triumph in last year's presidential election, and critics say his recent budget, which allocated huge funds to state bodies under the control of hardliners, demonstrated his lack of power.  Meanwhile, the Iranian currency has taken another dive against the dollar in recent days, adding to fears about the state of the economy.
"Four decades have passed since the establishment of the Islamic republic, a government whose obsession with Islamisation has left little room for Republican ideals," the activists' letter states.
It criticises the conservative-dominated judiciary, which acts independently of Rouhani's government.
"The judiciary is reduced to the executor of the political wishes of those who hold the reins of power. So many women, lawyers, journalists, teachers, students, workers and political and social activists have been harassed, arrested, convicted of serious crimes and sent to prison, solely for criticising officials, enlightening public opinion, inviting the rulers to respect separation of religion from government or demanding women's relief from the mandatory veil."
Last month Mehdi Karroubi, an Iranian opposition leader currently under house arrest, wrote a letter attacking the supreme leader, Ayatollah Ali Khamenei, who holds ultimate power in Iran. Direct criticism of Khamenei is rare.
"You have been Iran's top leader for three decades but still speak like an opposition. During the last three decades you have eliminated the main revolutionary forces to implement your own policies, and now you should face the results of that," Karroubi, a former speaker of parliament, wrote.
Hassan Rouhani has said too many people have been alienated by Iran's ruling establishment and proposed holding a referendum in an attempt to heal divisions in a country recently struck by an outburst of public discontent.
"When the revolution took place, we were all together and there were plenty of passengers on the train of the revolution; some of them wanted to get off the train themselves, and we got some of them off the train, whom we didn't have to," the Iranian president said.
Iranian officials say high turnouts in elections show that the establishment is still popular. Critics dispute that, saying many voters participate in the hope of bringing about change.  Saeed Barzin, a London-based Iranian analyst, said Rouhani's call for a referendum was a threat to push back the economic and political meddling of an unelected faction dominated by hardliners, in particular, the Revolutionary Guards.
"The undercurrent issue is how the power will be distributed after Khamenei, and in a way, the power struggle has already begun. Reformists feel under threat that the current situation might lead to people losing hope in reform or becoming radical or becoming apolitical. Hardliners, on the other side, might see an opportunity here to scapegoat Rouhani and even conduct a soft coup d'état, but it's a gamble," Barzin said.
Barzin said he was not impressed by the activists' letter, though the range of signatories was interesting. Even those based in Iran, he said, did not represent mainstream reformists, who would view holding such a referendum as the establishment acquiescing to its own destruction.