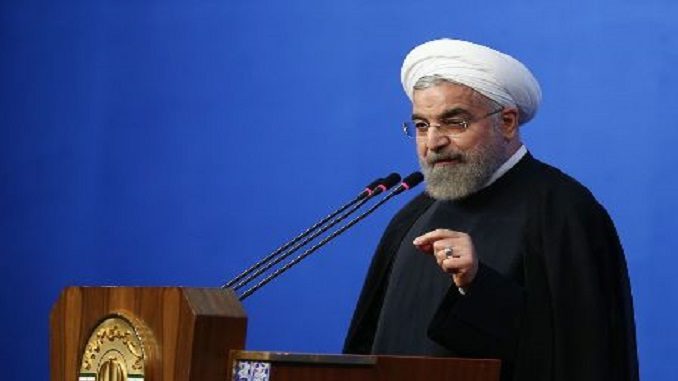 Iranian President Hassan Rouhani has declared the end of ISIS in an address broadcast live on state TV. Rouhani said that foundation of terrorist groups in the region is uprooted which he termed a 'great achievement'.
Speaking in a local gathering, Rouhani also hailed Ayatollah Khamenei, Muslim fighters, governments, diplomats and armed forces of Iran, Syria and Iraq for terminating the terrorist groups which he said have brought about nothing but malevolence, misery, destruction, barbarism and massacre. He underscored that the terrorist groups, sponsored and armed by global powers and certain regional countries, looted several museums in Iraq and Syria and finally sold the historical works in the market in collaboration with their backers.
"The terrorists also sold girls, burned people alive in cages and cut the throats of several elite youths in the region. We never imagined that such savage and criminal acts could be committed by world powers, western countries, U.S. as well as the Zionist regime in the 21st century. Their masters who were directing the terrorists thought that they could continue their massacre and plunders in the region for many years. Thanks to the regional countries' endeavors, the dominance of terrorist groups ended or to some extent diminished in the Middle East," he added.
Touching upon the tripartite summit meeting to be attended by the presidents of Iran, Russia and Turkey over Syria developments in the Russian Black Sea resort of Sochi, he said the Syria's issue, the future and security of the Arab country and the region would be reviewed during the meeting.
A senior commander of Iran's Revolutionary Guards, Major General Qassem Soleimani, also declared the end of the jihadist group operating in Syria and Iraq in a message published on Tuesday on Sepah News, the Guards' news site. The Revolutionary Guards' statement also thanked its ally, Lebanese militant group Hezbollah, for its "decisive" role in the fight. Soleimani made reference to a long list of hideous crimes committed by ISIS during its "sinister" terror campaign, including mass beheadings, enslavement, and immolation of innocent people.
"The Takfiri outfit managed to seize swathes of land in the two Arab states where it unleashed a crisis by radicalizing and recruiting thousands of youths. The onslaught displaced millions of people and destroyed thousands of mosques and religious centers," he added.
Soleimani further highlighted Washington's destructive role amid the regional fight against terror. He said even the highest-ranking American official, the president of the United States, has acknowledged that all these crimes have been orchestrated and perpetrated by individuals and organizations with links to the United States, adding that U.S. leaders are treading on the same path even now.
Iranian militias have helped shore up Syrian President Bashar al-Assad's rule since 2014 against both moderate opposition and extremists. At least 1,000 Iranian fighters, some of them Afghan refugee recruits, are thought to have died in the fighting. Across the border in Iraq, Iranian-funded Shia militias form part of the U.S.-backed Iraqi coalition which drove ISIS out of its de facto Iraqi capital of Mosul in June and has almost succeeded in eliminating ISIS as a land-holding force in the country.
In a televised speech from Beirut on Monday night, Hezbollah leader Hassan Nasrallah said that the group was ready to withdraw its troops from Iraq once the central government declares a decisive victory. Both Rouhani and Nasrallah's comments come in the wake of an Arab League meeting in Cairo on Sunday in which Saudi Arabia called on the region to unite against Iran, its regional rival, over its "destabilizing" role in the Middle East's many conflicts.
Tensions between Riyadh and Tehran are running high following a November 4 Houthi rebel ballistic missile fired from Yemen towards Saudi Arabia and the shock resignation of Lebanon's Sunni Prime Minister Saad Hariri, a move widely believed to have been orchestrated by the Saudi authorities.