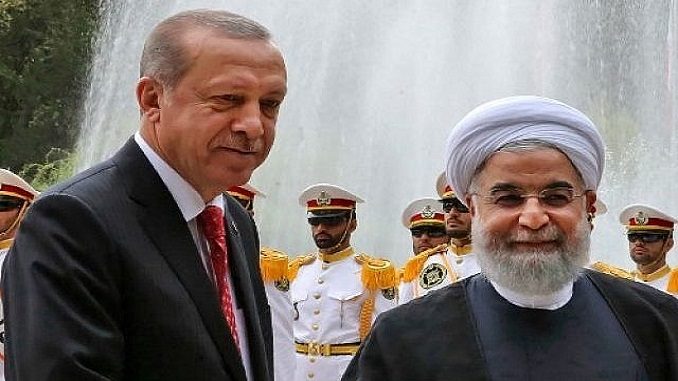 Iran's President Hassan Rouhani on Wednesday told his Turkish counterpart he hoped protests that have rocked the country since last Thursday would end in a few days, Hurriyet Daily News reports. Erdogan and Rouhani discussed ongoing demonstrations in Iran in a phone conversation on the morning of Jan. 3, according to Turkish presidential sources.
The almost week-long unrest in Iran which began with protests in Mashhad over the economy and unemployment has spiraled into what it thought to be the biggest challenge to the Islamic regime since the 2009 mass demonstrations, and has so far claimed at least 21 lives, Tehran officials said. Rouhani said on Sunday Iranians had the right to protest and criticize the authorities but their actions should not lead to violence or damage public property.
Erdogan told Rouhani that "peace and stability" in Iranian society had to be preserved and said he agreed with the Iranian leader's statement that the right to protest should not lead to "violations of the law". Turkey said on Wednesday President Hassan Rouhani's response to days of protests across Iran was appropriate and that Ankara valued Iranian stability, in one of the first regional expressions of support for Tehran.
"President Rouhani thanked President Erdogan for his sensitivity and expressed hope that the protests would end in a few days," said a statement by a Turkish presidential source. The comments were not immediately confirmed by the Iranian side.
Erdogan's sympathetic comments follow an improvement in relations between Ankara and Tehran, which have worked together in recent months to reduce violence in Syria, despite backing opposing sides in the conflict for several years. Turkey's ties with Iran expanded last year as Ankara's relations with the United States, Israel and Saudi Arabia – Tehran's main international opponents – all frayed. Turkey's ties with Iran expanded last year as Ankara's relations with the United States, Israel, and Saudi Arabia – Tehran's main international opponents – all frayed.
Erdogan told Rouhani "that he found his comments about not violating the law while exercising their right to peaceful protests was appropriate", the source said. Turkey – which was hit by street protests against Erdogan, then prime minister, in 2013 – had already said it was concerned by the protests and warned against any escalation.
Secular but overwhelmingly Sunni Muslim Turkey shares a border with mainly Shi'ite Muslim Iran. They are the two biggest non-Arab powers in the Middle East region. In August Iran's military chief of staff visited Turkey, which is a member of the NATO military alliance, for talks on cooperation in the Syrian conflict and counter-terrorism.
"Iran's stability is important for us. We are against foreign interventions in Iran. If the leadership is to change in Iran, the Iranian people will do this," Turkey's Foreign Minister Mevlut Cavusoglu said, in remarks quoted by television channel NTV.
Broadcaster CNN Turk said Cavusoglu also echoed Rouhani's suggestion that the United States and Israel had provoked unrest.
"There are two people supporting the demonstrations in Iran: (Israeli Prime Minister Benjamin) Netanyahu and (U.S. President Donald) Trump," it quoted Cavusoglu as saying.
Turkey, whose rivalry with Iran goes back to the regional battle for supremacy between the Ottoman Empire and imperial Persia, has had on occasion tricky moments in relations with Tehran. Erdogan has repeatedly railed against "Persian imperialism" in the Middle East but relations have warmed in the last months as Moscow and Tehran work tightly with Ankara to bring peace to Syria.
Turkey's conservative press has sounded grave unease over the protests, accusing the United States and its allies of fomenting the unrest as part of a plot to transform the Middle East.