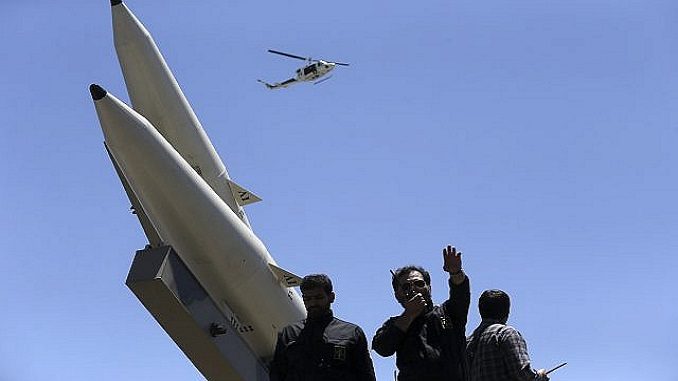 Iran's Revolutionary Guard Corps vowed on Thursday to accelerate its controversial ballistic missile program, a day after the U.S. urged the international community to follow the Trump administration's footsteps and confront Iran over its "destructive conduct" across the Middle East.
IRGC denounced the "featherbrained" U.S. president for his recent insults against the Iranian nation and his hostile comments about the IRGC, pledging that it will press on with plans to broaden its regional clout and boost Iran's missile power.
"Iran's ballistic missile program will expand and it will continue with more speed in reaction to Trump's hostile approach towards this revolutionary organization," the IRGC said in a statement published by the semi-official Tasnim news agency.
The Guard's statement also blamed the "Zionist regime" Israel along with the White House for implementing "devastating" policies in the region, pointing that they have failed to carry out their "evil" schemes to redraw regional borders and undermine Muslim nations.
Hailing the "meaningful" national unity and support for the IRGC following Trump's speech, the statement underscored that the IRGC's raison d'être is an unwavering battle against the hegemonic system and Zionism and safeguarding the Islamic Revolution and the interests of Iran.
It went on to stress that the IRGC will keep trying to enhance its regional influence and boost Iran's missile capabilities incessantly and with more acceleration.
On Wednesday, U.S. Ambassador Nikki Haley urged the UN Security Council to adopt the Trump administration's tough approach to Iran and address all aspects of its "destructive conduct" — not just the 2015 nuclear deal.
Haley told the council that Iran "has repeatedly thumbed its nose" at council resolutions aimed at addressing Iranian support for terrorism and regional conflicts and has illegally supplied weapons to Yemen and Hezbollah militants in Syria and Lebanon.
She called Iran's "most threatening act its repeated ballistic missile launches including the launch this summer of an ICBM enabling missile."
"This should be a clarion call to everyone in the United Nations. When a rogue regime starts down the path of ballistic missiles, it tells us that we will soon have another North Korea on our hands," Haley said.
Last Friday, Trump said his administration "cannot and will not" certify Iran's compliance with the Joint Comprehensive Plan of Action (JCPOA) to Congress, as he set out a new strategy for dealing with Iran. He also said that his new strategy begins with imposing tough sanctions on the IRGC, accusing Iran of "proliferation of missiles and weapons that threaten its neighbor's global trade and freedom of navigation."
In a televised address to the nation later in the day, Iranian President Hassan Rouhani blasted the comments by Trump, reiterating that the Iranian nation will not surrender to such "false statements and hate speech."