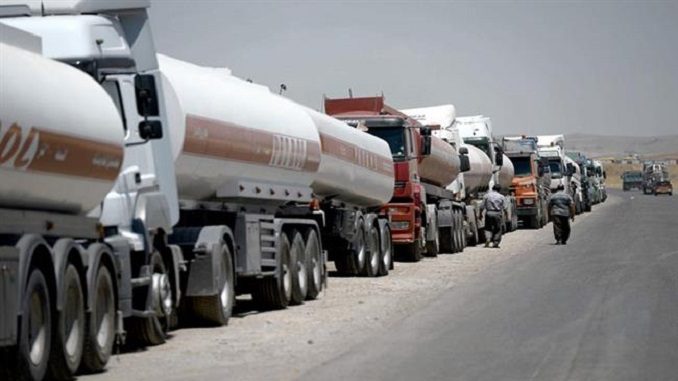 An oil swap plan between Iran and Iraq is facing delays due to safety problems, secretary of the Iran-Iraq Chamber of Commerce says as quoted by Iran Front Page. The deal to initially truck 30,000 barrels per day (bpd) of crude oil from Iraq's Kirkuk fields to Iran's Kermanshah refinery was to get underway this month.
However, Hamid Hosseini told the ISNA news agency that "for the deal to be implemented, there are problems in the area of safety," citing the lack of truck screening devices.
"We need to check the safety of the trucks that are supposed to arrive, and we are having problems in this regard, because we do not have X-ray machines. In this regard, we are talking with the Iraqi side, and if they agree, we will use the facilities that they have and gradually complete our equipment," he said.
The two neighbors signed a swap deal in December, under which Iraq is about to truck 60,000 bpd of oil from its northern fields to Iran. The two neighbors also plan to build a pipeline to carry the oil from Kirkuk to Iranian refineries in Kermanshah, Tabriz, Tehran and Arak. Iraq's planned oil exports to Iran threaten the existing export route from Kirkuk via Turkey and the Mediterranean.
Turkey has invited Iraqi Oil Minister Jabar al-Luaibi to discuss the resumption of oil exports through the Mediterranean port of Ceyhan, which have been halted since Baghdad took control of the major oilfields in Kirkuk late last year. For years, Turkey has been reaping the economic benefits of transporting and selling the Iraqi oil from the semi-autonomous Kurdistan region.
Iraqi officials have said a deal with Turkey on resuming oil exports would require shipments "exclusively through Iraq's state oil marketer SOMO." Iraq also plans to build a second export pipeline from the Kirkuk oilfields which will replace an old one severely damaged by Daesh terrorists.
The country exported 250,000 to 400,000 barrels per day (bpd) through the pipeline before the start of Daesh terrorism halted the supplies. Luaibi has said Baghdad planned to raise production from the Kirkuk fields to 1 million bpd, which produced 407,000 bpd in July.