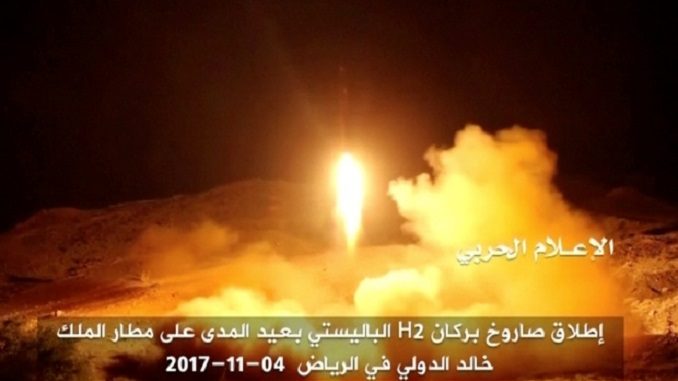 Saudi Arabia has lashed out at Iran over the firing of a ballistic missile towards Riyadh by Houthi rebels in Yemen, citing evidence that Tehran was behind the strike and labeling it a potential "act of war."
Spokesman of the Arab Coalition Supporting Legitimacy in Yemen Colonel Turki Al-Maliki said on Sunday that the ballistic missile targeting Saudi Arabia is a hostile act and  stressed that the serious escalation by the Houthis has come due to Iranian support.
This came in a press conference held by Colonel Al-Maliki on Sunday in which he presented evidence with pictures of Iranian support for the Houthi militias in Yemen. He also confirmed that Tehran and Hezbollah are providing the Houthis with weapons, experts and technology. Their aim is to prolong the war and spread chaos.
"A thorough examination of the debris of these missiles, including the missile launched on July 22, 2017, has confirmed the role of Iran's regime in manufacturing these missiles and smuggling them to the Houthi militias in Yemen for the purpose of attacking the Kingdom, its people, and vital interests," said the statement carried by the Saudi Press Agency (SPA).
The Saudi-led coalition fighting in Yemen closed off the land, sea and air ports to the Arab world's poorest country early Monday after a rebel-fired ballistic missile targeted Riyadh, blaming the launch on Iran and warning it could be "considered as an act of war."
"The Coalition's command considers the Iranian regime's action in supplying the Houthi militias that it commands with these missiles to be a blatant violation of the United Nations Security Council (UNSC) Resolutions that prohibit nations from arming these militias, specifically UNSC Resolution (2216)," the statement said.
The Saudi-led coalition's statement said the closures would be temporary and "take into account" the work of humanitarian and aid organizations. It urged Yemeni civilian and humanitarian crews and diplomatic missions to avoid areas of combat operations, areas populated by the Houthi armed militia, smuggling routes of Houthis, and missile launch sites of Houthis. U.S. President Donald Trump also was quick to blame Iran on Sunday. "A shot was just taken by Iran, in my opinion, at Saudi Arabia. And our system knocked it down," Trump said, referring to the Patriot missile batteries Saudi Arabia purchased from the U.S.
The head of Iran's Revolutionary Guards denied on Sunday accusations by Donald Trump that Iran was behind the firing of a ballistic missile at Saudi Arabia from warring Yemen, rejecting it as one of the U.S. president's "slanders."
"Trump has said many baseless things and told many lies and frequently falsely accused Iran and this one of those slanders. We do not have even the possibility to transfer missiles to Yemen. The missiles belong to them and they have increased their range," Iran's state news agency IRNA reported quoting Mohammad Ali Jafari.
The coalition's statement ramps up tensions between the ultraconservative Sunni kingdom and its Shia rival Iran, both of which have interests in Yemen's years long conflict. Western analysts have said the smuggling of Iranian weapons to Houthi insurgents have continued despite efforts to stop them since the Coalition sent forces to Yemen to restore the government of President Abed Rabbo Mansour Hadi in March 2015.
A Reuters report on March 23, 2017, had said that from September 2015 until March 2016, "the French and Australian navies frequently intercepted "weapons which officials said were most likely bound for the Houthis."
It also quoted a US defense official as saying Iranian weapons smuggling to the Houthis had continued since March 2016, and that the equipment included "long-range ballistic missiles capable of reaching deep into Saudi Arabia."
Nic Jenzen-Jones, a military arms specialist and director of Armament Research Services, which has tracked Iranian equipment ending up in Yemen, also said quantities had increased, the same report said. The Conflict Armament Research (CAR) had also said in a study that it had evidence showing that the Qasef-1 UAV drone that Houthis claimed to have made were actually traced to Iran.
The smuggling of Iranian weapons to the Houthis is via Hodeida Port. The missiles are smuggled into Yemen as separate parts and reassembled before launch, he said. Hezbollah smuggles weapons from Lebanon to Syria, then to Iran and finally to Yemen. The Houthis have planted over 50,000 landmines at the Saudi borders, he said.
The kingdom announced a list of 40 names of leaders and elements responsible for planning, executing and supporting various terrorist activities by the Houthi terrorist group, as well as financial rewards (shown in front of each of them), for information leading to their arrest or whereabouts.