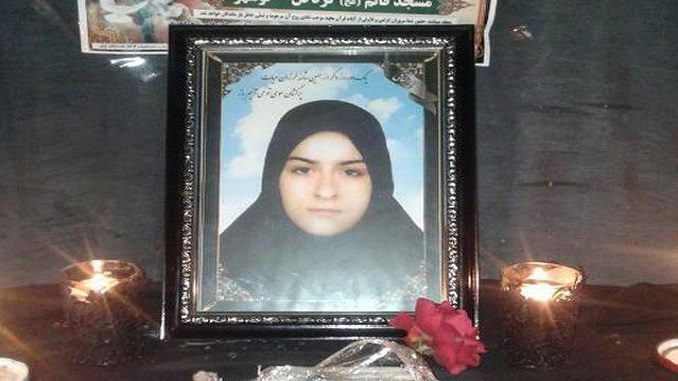 Iran executed at least three child offenders across the country in January 2018, Human Rights Watch said. Iran should immediately and unconditionally end the use of the death penalty for crimes committed by children under age 18, and move toward a complete ban on capital punishment.
On January 4, authorities in Karaj prison executed Amirhossein Pourjafar for the rape and murder of a 3-year-old girl when he was 16. On January 30, authorities in Bushehr prison, in southern Iran, executed Ali Kazemi for a murder he allegedly committed when he was 15. On the same day, in Nowshahr prison in northern Iran, authorities executed Mahboubeh Mofidi, who was married when she was 13, for the alleged murder of her husband in 2014, when she was 17.
"Iran seems intent on erasing any positive impression gained from modest reforms to its drug execution laws last year by hanging several child offenders in a bloody start to 2018. When will Iran's judiciary actually carry out its alleged mission, ensuring justice, and end this deplorable practice of executing children," said Sarah Leah Whitson, Middle East director of Human Rights Watch.
On January 30, the Imam Ali Society, a local nongovernmental group that focuses on saving children from death row, reported that Kazemi, who was sentenced to death for fatally stabbing a man during a street fight seven years ago, was executed in Bushehr prison in Bushehr province. The group said that he was executed even though the authorities had promised to try to halt the execution.
Amnesty International reported that, on the morning of January 30, prison authorities called to reassure the family that the execution had not taken place. However, at midday, Kazemi's family found out that the execution had just been carried out.
Mofidi was 20 when authorities executed her on January 30 in Nowshahr prison in Mazandaran province. Human Rights Watch confirmed Modifi's date of birth – May 18, 1997 – through reviewing copies of her national identification card and her death certificate.
Pourjafar, who was 18 when he was executed, told Shargh newspaper on December 30, 2017, that he was under influence of alcohol when he committed the crime. Mojtaba Farahbakhsh, Pourjafar's lawyer, told the newspaper that Pourjafar had signs of a "conduct disorder" and had been hospitalized in a mental health center during his detention. Despite these circumstances, the authorities pushed ahead with carrying out the death penalty.
Iran is one of only four countries known to have executed child offenders since 2013. The others are Pakistan, Saudi Arabia, and Yemen. Gaza has also executed children. Iran is a state party to the Convention on the Rights of the Child, which bans executing child offenders.
Iran's 2013 penal code amendments prohibit executing child offenders for certain categories of crimes, including drug-related offenses. For other serious crimes, article 91 of the amended code allows judges to use their discretion and not issue a death sentence against a child who was not able to comprehend the nature and consequences of the crime at the time. The amended law also allows the courts to rely on "the opinion of a forensic doctor or other means it deems appropriate" to establish whether a defendant understood the consequences of their actions.
However, Iranian courts have continued to sentence children to death after these amendments became law. From 2014 to the end of 2017, Iran executed at least 25 people for crimes committed when they were children, according to Amnesty International and Iran Human Rights. Shahriar Khoramdel, Kazemi's lawyer, told Human Rights Watch on February 1 that judges at the court of the first instance and the Supreme Court refused to send Kazemi to forensic doctors for an examination to assess his ability to comprehend the nature of his crime.
Since 2012, Human Rights Watch has called on the Iranian government to amend its penal code to impose an absolute prohibition on the death penalty for child offenders, as required by international law. Human Rights Watch has also called on Iran's judiciary to impose an immediate moratorium on executions due to the serious concerns regarding due process violations leading to the implementation of the death penalty and to move toward abolishing capital punishment. Human Rights Watch opposes the death penalty in all circumstances because it is an inherently irreversible, inhumane punishment.
"Iranian authorities often claim they are treated 'unfairly' by the international community for their human rights record, but they only hurt their case when they have the shameful distinction of leading the world in executions for crimes committed by children," Whitson said.
Iran Human Rights Monitor has compiled a report detailing the human rights situation in Iran for the month of January 2018. Last month, there was a huge crackdown on protesters. At the end of December, the people of Iran took to the streets because of the poor economic situation that is caused by the regime's mishandling of the nation's wealth. The protests quickly turned into anti-government demonstrations. The security forces violently suppressed the protesters and there were at least 50 deaths. The report also indicates that more than 8,000 protesters were arrested.
The report mentioned that teargas and water cannons were used to disperse crowds and unarmed protesters were shot at. Plainclothes agents went from home to home to arrest people and there have been reports of detainees being tortured "to the brink of death". There have also been accounts of detainees being put into freezer rooms to force confessions out of them.
There have also been dozens of young people that have forcibly disappeared. The families gathered outside several prisons but were dispersed by prison authorities who used air shots and tear gas. The total number of protesters that have been killed by torture is at least 12. Iranian officials have denied the claims that they were tortured and said that the deaths were attributable to suicide or drug use. Families have given accounts of their loved ones being covered in injuries.
Other violations of human rights include the beating of a woman by more than 50 security agents when she was seen filming the demonstration at the Golsar Intersection in the northern city of Rasht. Furthermore, a large number of protesters that were thrown in jail were denied legal representation.
Iran Human Rights Monitor listed the names of 17 people known to have been executed during the month of January. Several of the victims were minors that the time of their alleged crimes. A prisoner in the Central Prison of Mashhad had his hand amputated by guillotine and the Judiciary Spokesperson Gholam-Hossein Mohseni-Eje'I said that this should serve as a warning to anyone that creates insecurity in society. Another arbitrary punishment was handed to a young taxi driver who was given 80 lashes for drinking wine.