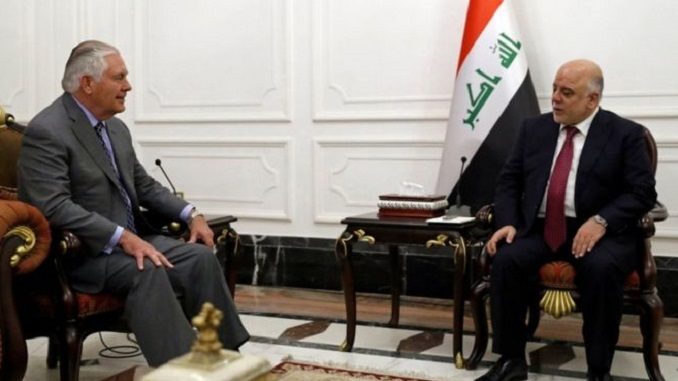 U.S. Secretary of State Rex Tillerson arrived in Iraq Monday night, but his welcome in Baghdad was far less effusive as the Trump administration pushes to isolate Iran, an important Iraqi ally, New York times reports.
The diplomatic challenges for the United States in Iraq have become a minefield of competing interests as the Islamic State surrenders the last of its Iraqi territory and a host of squabbling groups fight to fill the vacuum. Hours before Tillerson arrived, Iraqi Prime Minister Haider al-Abadi's office released a testy statement rejecting Tillerson's call the previous day for Iranian-backed militias — known as Popular Mobilization Forces or Hashad al-Shaabi — to either disband or leave Iraq.
One of the closest groups to Iran within Popular Mobilization, Asaib Ahl al-Haq, reacted to Tillerson's comment by saying it would be Americans who will be forced to leave Iraq.
"Your forces should get ready to get out of our country once the excuse of Daesh's presence is over," said Asaib's leader, Sheikh Qais al-Khazali, according to the group's TV channel, al-Aahd.
Popular Mobilization is an Iran-backed force that helped defeat Islamic State and capture the Kurdish-held city of Kirkuk. Although the militias may be armed and trained by Iran, the militia members are Iraqis.
In his opening remarks at the meeting with Tillerson, Abadi said Popular Mobilization "is part of the Iraqi institutions," rejecting accusations that it is acting as an Iranian proxy, Reuters reports.
"We wonder about the statements attributed to the American secretary of state about the Popular Mobilization Forces. The fighters should be encouraged because they will be the hope of country and the region," he added.
The militias were recruited and integrated into the Iraqi military in 2014 after Islamic State militants swept through parts of Iraq and seized nearly a third of the country, despite years of effort and billions of dollars spent by the United States to train government forces.
A top Iranian commander, Major General Qassam Suleimani has advised the militias inside Iraq, prompting some Iraqi lawmakers to describe them as an arm of Iran's Revolutionary Guards Corps. The militias maintain individual commands separate from the Iraqi military command and often fly Shi'ite banners and flags at Iraqi Army checkpoints.
"Members of the militias are Iraqi patriots who "have sacrificed greatly to defend their country. No side has the right to intervene in Iraq's affairs or decide what Iraqis should do," Abadi's statement said.
Previously, Iranian Foreign Minister Mohammad Javad Zarif dismissed Tillerson's remarks. The paramilitaries could not go home because "they are at home" already, he was quoted as saying by the state news agency IRNA.
After meeting with Prime Minister Abadi, Tillerson called for unity in the country, long troubled by sectarian and tribal divisions.
"We are concerned and have been saddened by the recent differences that have emerged between the Kurdistan regional government and the Iraqi central government," Tillerson said.
Asserting that "we have friends" in Baghdad and the Kurdish region's capital, Erbil, Tillerson said "we encourage both parties to enter into discussion and dialogue."
Yet, a powerful leader of a Shiite militia group has asked the U.S. Secretary of State Rex Tillerson to prepare to withdraw U.S. forces from Iraq after the top American diplomat said "Iranian militia" in Iraq should go home as the war on ISIS is about to end in the country.
Qais al-Khazali
, head of the Iranian-funded Asa'ib Ahl al-Haq, tweeted Monday night that U.S. forces who are now in Iraq as part of the Global Coalition against ISIS must prepare to go home.
"To the U.S. Secretary of State: your armed forces have to prepare from this point immediately and without any delay to leave our homeland Iraq after the end of the ISIS-presence excuse," Khazali's tweet read in Arabic.
It is the latest response from the Hashd al-Shaabi and the Iraqi government following Tillerson's remark on Sunday that it was time for foreign fighters, including Iranian elements of the Hashd al-Shaabi, to leave Iraq. Ahmad al-Asadi, Hashd spokesperson, asked for an apology while calling the US remark unacceptable and baseless.
Another Hashd commander, Hadi al-Amri, urged Iraqi Prime Minister Haider al-Abadi not to meet with Tillerson unless the American first issued an apology.