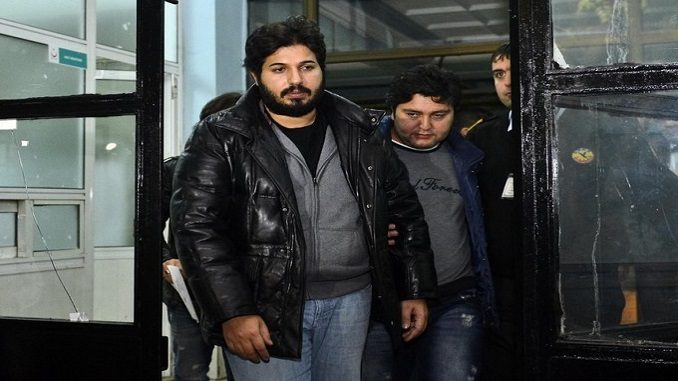 Prosecutors on Tuesday revealed that a wealthy Turkish-Iranian gold trader struck a plea deal to testify about a vast corruption scheme they say reached into the upper levels of the Turkish government — a development that could further strain relations between the United States and one of its key strategic allies, ABC News reports.
Reza Zarrab will take the witness stand to detail how he and Turkish banker Mehmet Hakan Atilla laundered Iranian oil money in violation of U.S. economic sanctions against Iran, a conspiracy involving bribes and kickbacks to high-level officials, Assistant U.S. Attorney David Denton said in opening statements at Atilla's trial in New York City.
"The scheme was so large that it was protected by government ministers in Turkey and Iran," Denton said.
Atilla, 47, a former deputy CEO of Halkbank, was the architect of an effort to dupe U.S. banks into letting Iran move money around the world and blow "a billion-dollar hole in the U.S. economic sanctions." Given Zarrab's cooperation, Atilla is now the only defendant on trial in the case.
Zarrab, 34, was arrested last year and jailed before entering a plea to bank fraud, money laundering, and other charges in secret on Oct. 26. A charging document unsealed on Tuesday alleged that he met with banking government officials — "including the then-governor of the Central Bank of Iran and the then-finance director of the National Iranian Oil Company" — in 2012 to discuss transferring Iranian natural gas proceeds to a Turkish bank, and that he spoke about paying a bribe to a bank executive.
Zarrab accepted responsibility for "busting sanctions and laundering money" and would "tell the inside story and expose the truth behind all those elaborate lies" told by his onetime co-defendant to cover up the scheme, Denton said.
The prosecution in Manhattan has been major news in Turkey, where President Recep Tayyip Erdogan has repeatedly asked the U.S. to release Zarrab. Turkey's deputy prime minister recently said Zarrab, who is married to Turkish pop star and TV personality Ebru Gundes, was a "hostage" being forced to testify against Turkey's government.
On Tuesday, a Turkish prosecutor issued warrants for the detention of two citizens for cooperating with U.S. prosecutors. The move comes amid a crackdown by Erdogan following a 2016 coup attempt he said was orchestrated by Fethullah Gulen, a Muslim cleric living in self-imposed exile in Pennsylvania. Several Americans have also been arrested in that crackdown.
The chief prosecutor in Istanbul issued an arrest warrant for a former opposition legislator, Aykan Erdemir. He was accused of supplying fake evidence to United States authorities in connection with the Zarrab case.
Erdemir is a Turkey expert at the Foundation for Defense of Democracies, a Washington-based group that has strongly criticized Iran. The group's chief executive, Mark Dubowitz, testified for the prosecution in the Zarrab case on Tuesday about the history of the Iran sanctions.