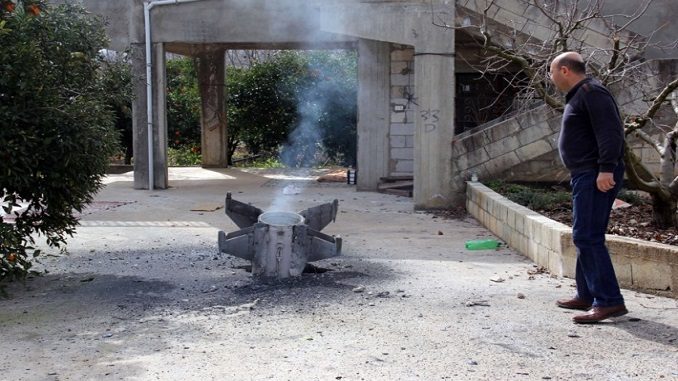 The shock that many Israelis felt seeing a fighter jet of their invincible air force scattered into a thousand pieces in the Galilee dominated much of the coverage of Saturday morning's air battle. But a much more important question is why did the Syrians succeed for the first time since 1982 in shooting down an Israeli aircraft?
While there have been a number of incursions into Israeli airspace since 2006 by Iranian-made drones, these have all been carried out by Hezbollah or Hamas. Of course, Iranian officers would have been closely involved, but early Saturday marked the first instance, as far as we know, where the drone was directly operated by Iranians, not just a proxy. The precedent doesn't relate just to drones, Haaretz reports.
Israel and Iran have essentially been at war since the early 1980s, when under Iranian influence, Hezbollah was formed as a Shi'ite militia fighting Israel's military presence in southern Lebanon. In all the time since then, Iran has pursued its campaign against Israel through proxies – Hezbollah and at various points Hamas, Islamic Jihad and the Assad regime in Syria.
Israel's own campaign against Iran has been waged in secret intelligence operations occasionally – according to foreign media sources – also using proxies from the opposition groups to the Islamist regime in Tehran. But at no point has there been a direct military confrontation between the two countries.
There doesn't even exist an official state of war, as still exists by law between Israel and some Arab countries since 1948. Only in 2011 was the law prohibiting trade with "enemy countries" updated to include Iran.
This sudden departure from established Iranian strategy, in which the Revolutionary Guards' Quds Force has for the first time carried out its own incursion of Israeli airspace, still has many Israeli officials baffled. In a briefing Monday, the Israel Air Force's second-in-command, Brigadier General Tomer Bar, admitted that he still had no idea what mission the Shahed-141 drone was on.
That it was an attack mission is unlikely, as no weapon or explosives have so far been found among the drone's fragments, which are in Israel's hands. A reconnaissance operation would perhaps make more sense, but if this is the case, why didn't the Quds Force use one of its proxies to carry out the mission, as it has in the past?
Some Israeli analysts have advanced the theory that the incursion was a successful effort to "draw Israeli aircraft into a missile trap." But if the Iranians were using the drone to lure Israel into a counterattack, why sacrifice the Shahed-141? It's the latest model by Iran's aerospace industry, cloning the American RQ-170 spy plane, an example of which fell into the Iranians' hands in 2011. The same objective could have been achieved using an older and less valuable drone.
One explanation that has been given by Iranian exiles, ostensibly based on sources within the Revolutionary Guards' air force, was that the plan was to obtain footage of Israeli bases that would be used on Sunday's 39th anniversary of the Islamic Revolution. Such pictures, the explanation goes, would have been proof of Iran's strategic capabilities and superiority over the Zionist enemy; this would have diverted attention from Iran's domestic unrest.
Four decades ago, before the revolution, Iran and Israel were strategic allies – two non-Arab nations in the Middle East sharing a rivalry and often enmity with the Sunni Arab regimes. For Ayatollah Ruhollah Khomeini, a never-ending war with Israel was a cornerstone of the Islamic Revolution, but 39 years later, as revolutionary fervor seems to be waning in Iran, his successors may feel they need a more direct confrontation to keep the embers alive.
Arch-enemies Iran and Israel crossed a line this weekend that both have been warning about for years: a direct confrontation between their militaries, The Guardian writes. After decades of fighting through proxy militia, such as the Tehran-backed Hezbollah in Lebanon, the clash on Saturday brought the direct battle into the open. As both sides assess the remains of the brief engagement, each will be deliberating on whether the long-looming specter of war has finally appeared.
"We need to prepare ourselves operationally and intelligence-wise for the mounting threat," Brigadier General Amit Fisher, the Israel Defense Forces chief responsible for the Syrian frontier, told troops on Sunday. "The big test will be the test of war."
Ofer Zalzberg, an analyst at International Crisis Group, said:
"We are entering a stage in which it is likely we will see more clashes between Israel and Iranian forces." While Zalzberg said he did not think either country desired a fully fledged war, the situation in Syria had brought them to blows, and more were to be expected.
Most concerning for Israel, where future clashes could erupt, is the frontier it shares with Syria in the occupied Golan Heights. For much of the Syrian war, which began as a popular uprising in 2011 and turned into a conflict after a bloody government response, the Syrian side of the Heights has been controlled by rebels.
But an emboldened Assad may try to retake it. Zalzberg said Assad would be unlikely to do this with just the Syrian army and may rely on Hezbollah militants and even Iranian officers. Having an Iranian military presence right on the border is a red line for the Israelis, Zalzberg said.
"Israel will be willing to pay a high cost to prevent such a scenario."