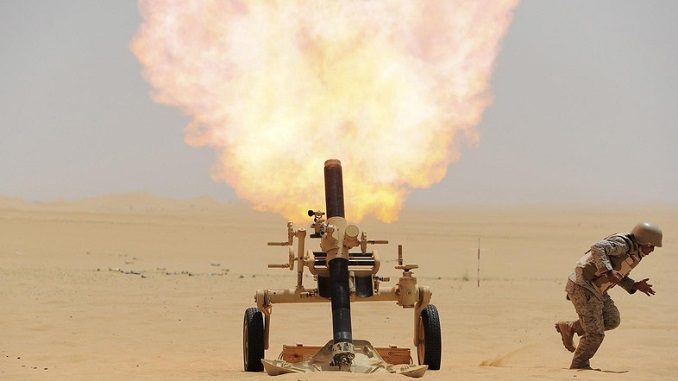 The Arab Coalition fighting against the Houthi militia in Yemen said on Sunday that it considered the intercepted missile attack on Riyadh on Friday a blatant and direct military aggression by the Iranian regime, which may amount to an act of war against Saudi Arabia, Al-Arabiya reports.
The coalition affirmed the kingdom's right to legitimate defense of its territory and people as stated in Article 51 of the Charter of the United Nations.
"Saudi Arabia also has a right to respond to Iran at the appropriate time and manner, supported by international law and in accordance with its inherent right to defend its territory, its people, and its interests protected by all international conventions," the statement read.
The Saudi-led coalition launched a wave of airstrikes — starting overnight and continuing until noon Sunday — on the rebel-held capital, Sanaa, apparently in response to the ballistic missile. The coalition threatened Iran with a possible retaliatory strike.
"Iran's role and its direct command of its Houthi proxy in this matter constitutes a clear act of aggression that targets neighboring countries, and threatens peace and security in the region and globally. Therefore, the coalition's command considers this a blatant act of military aggression by the Iranian regime and could rise to be considered as an act of war against the kingdom of Saudi Arabia. The coalition command also affirms that the kingdom reserves its right to respond to Iran in the appropriate time and manner," the statement said.
The Saudi-led coalition closed off land, sea, and air access to Yemen on November 6 after a ballistic missile targeted Riyadh two days earlier. It said the temporary closings would "take into account" the work of humanitarian groups.
The coalition was formed in 2015 to fight the Houthis after the rebels overran Yemen's capital, Sanaa, the previous year and forced the Saudi-backed government to flee into exile. The United Arab Emirates, Bahrain, Kuwait, Egypt, Jordan, Morocco, Senegal, and Sudan have supplied assets to the Saudi-led alliance.
Yemen is embroiled in a war between Iran-backed Shi'ite rebels, known as Houthis, and the internationally recognized government, which is allied with a Saudi-led military coalition. The government has been based in Saudi Arabia since the Houthis overran the capital Sanaa in 2014. Government forces ostensibly control Aden, but the city remains volatile.