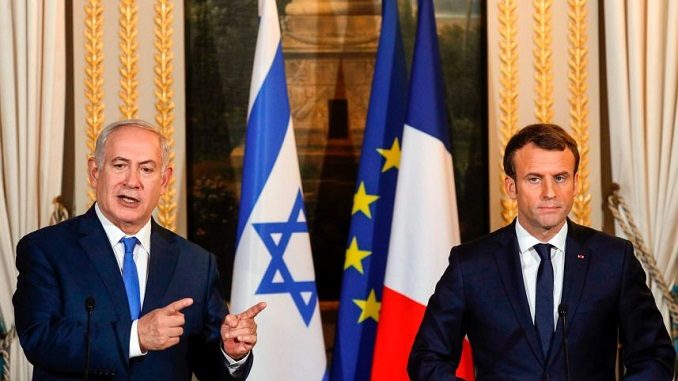 France is supportive of Israel's policies to counter Iran's aggressive behavior in the region, Prime Minister Benjamin Netanyahu said Sunday, The Jerusalem Post reports. Iran is trying to do two things: entrench itself militarily in Syria and build factories for precision missiles, Netanyahu told reporters at the Israeli Embassy in Paris, shortly after he concluded a meeting with French President Emmanuel Macron at the Elysée Palace.
"We're determined to prevent this, and we found an open ear and a supportive attitude," Netanyahu said.
The prime minister hailed Macron as one of few Western leaders who speak out against Iranian acts of aggression in Syria and Lebanon, adding that he and the president "agreed on many strategic issues." Netanyahu said Israel acts to protect its interests in the region, hinting at reported air strikes in Syria and Lebanon to prevent Iranian efforts to establish itself militarily there.
"I did not meet real opposition to this position. Previous presidents of France recognized the danger, but they didn't act on it with the same courage and boldness as Macron does, and that is very important. Israel and France agreed to increase already strong security cooperation," he said.
In his Sunday meeting with French President Emmanuel Macron, Netanyahu made it clear that Israel will not tolerate an Iranian attempt to establish a military presence in Syria. He also said Israel will not tolerate Iran's efforts to take control of Lebanon and manufacture large quantities of precision-range missiles aimed at Israel.
In a one-on-one meeting that went on for three hours, the two leaders also discussed the international nuclear agreement with Iran, the subject of economic sanctions and closer security cooperation from which everyone would benefit, it was noted. They also spoke about economic, scientific and technological cooperation.
On the subject of Jerusalem, the Israeli prime minister told the French president that U.S. President Donald Trump's declaration recognizing Jerusalem as Israel's capital was important for peace because, as the prime minister put it, it would bring people down to reality. Netanyahu once again hailed U.S. President Donald Trump's recognition of Jerusalem as Israel's capital, saying it fixed "a historic anomaly." He dismissed the notion that Israel will have to make any concessions to the Palestinians "in return for the favor."
"It was a historic anomaly, and it was about time that it is changed. The idea that we have to give anything in return is absurd. Trump didn't make his promise last week to move the U.S. Embassy from Tel Aviv to Jerusalem "as a give and take". He repaired a historic wrong, and over time it will be seen as such. The Palestinian fantasy that Jerusalem would be internationalized is one of the major obstacles to peace," he said.
Netanyahu will face renewed pressure from Europe on Monday to reboot the Middle East's stagnating peace process following widespread criticism of a U.S. decision to recognize Jerusalem as the Jewish state's capital. He will be in Brussels for an informal breakfast with EU foreign ministers, who will urge him to "resume meaningful negotiations," according to the bloc's diplomatic chief, Frederica Mogherini.
The prime minister said that he is not yet fully aware of Trump's peace proposal, but noted that Jerusalem is one of the "core issues" that will be on the table.
"We never ruled out that Jerusalem is discussed. The Palestinians have their positions on it, and they are free to bring them up. We never rule out discussions – we rule out [certain] results," he said, adding that his government's opposition to a partition of Israel is well-known.
Speaking alongside Netanyahu on Sunday, Macron again condemned the decision as "contrary to international law and dangerous for the peace process."
"I urged the prime minister to show courage in his dealings with the Palestinians to get us out of the current dead-end. Peace does not depend on the United States alone… it depends on the capacity of the two Israeli and Palestinian leaders to do so," Macron said after talks in Paris with the Israeli leader.