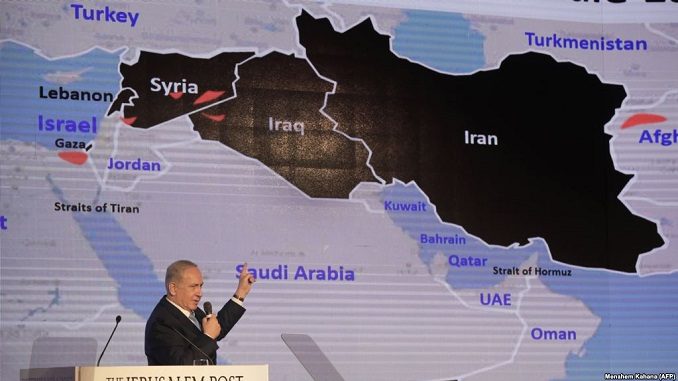 Israel won't allow Iran to establish a military base in Syria, Israeli Prime Minister Benjamin Netanyahu said as he called on the world to halt Iran's development of ballistic missiles, nuclear power and its support of global terrorism.
"We have to act now against Iran," Netanyahu said on Wednesday afternoon at the Jerusalem Post Diplomatic Conference.
These comments come the same week that Israeli forces allegedly executed two airstrikes against Syria, including one on an Iranian military base and the other on a Syrian military research center.
"We will not let them establish themselves in Syria. We mean what we say and we say what we mean," Netanyahu said.
During his short talk, his only scheduled English address for the day, he did not address U.S. President Donald Trump's pending recognition of Jerusalem as Israel's capital. Instead he used the stage to urge the diplomats in the room to send a "cable" to their governments urging more pressure on Iran with regard to human rights and halting Iran's nuclear capacity.
He asked the diplomats to support efforts by the U.S. and Israel to create a series of safeguards around the 2015 nuclear deal with Iran that addresses flaws in the agreement that would allow Iran to quickly become a nuclear power once it ends.
"If Iran continues unabated they will have nuclear weapons in a decade. Tehran is also developing an intercontinental ballistic missile with global reach," he said.
Netanyahu also announced that Israel is expanding ties throughout the Middle East, but not with Iran. He said Israel has relations "with nearly every single one" of nations that do not formally recognize it, due to their growing need for its economic and security expertise."
"See that country in red? By the way that's not on our list of diplomatic allies," he said, pointing to Iran on a map.
He pointed to a map of the world, including the Middle East, with countries under Iranian influence in black, to show how Iran as an "aggressive regime" seeking nuclear weapons was slowly taking over the region, creating a "land bridge" via Iraq and Syria to the Mediterranean Sea.
"Hamas and Hezbollah would "not last a day without Iran," Netanyahu said.
To the diplomats he added: Protect "the flames of liberty and the flames of progress."