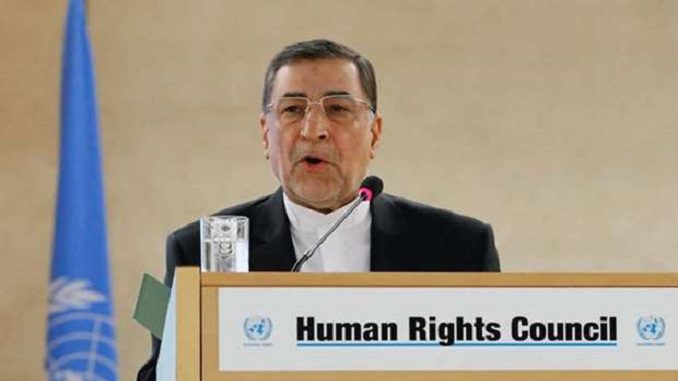 As scores of protestors demonstrated outside, the U.N.'s top human rights body on Tuesday gave a platform to an Iranian regime official sanctioned by the European Union for his role in "human rights violations, arbitrary arrests, denials of prisoners' rights and an increase in executions." Iranian Justice Minister Alireza Avaei rebuked U.S. criticism in a defiant speech at the UN Human Rights Council yesterday, highlighting the tensions between Tehran and Washington, Gulf News reports.
Avaei lashed out at the United States in his speech, denouncing its recognition of Jerusalem as Israel's capital as a provocation that "revealed their complicity to deprive the Palestinians of their basic right" to set up an independent state. Without naming the U.S., he also criticised "self-proclaimed champions of human rights" who blame others, "while certain parts of their population, especially blacks, immigrants, foreigners and indigenous people, grievously suffer."
Avaei, President Hasan Rouhani's justice minister, did not address the controversy over his appearance at the Human Rights Council in Geneva, where several diplomats left the chamber before he spoke. Instead, he accused "certain states" of "selectivity" and "double standards" in the promotion of human rights, offered thinly-veiled criticism of race relations in Western nations, and berated the Trump administration for its recent recognition of Jerusalem as Israel's capital.
"Certain states use U.N. human rights mechanisms as an instrument to advance their political agenda, thereby creating an atmosphere of confrontation and polarization. These self-proclaimed champions of human rights, through finger-pointing, unjustly and wildly blame others for violations of human rights, while certain part of their population – especially blacks, immigrants, foreigners and indigenous people – grievously suffer from human rights violations under their watch," he charged.
Avaei also slammed "certain states" for "providing overwhelming and unconditional support for the Israeli regime while promoting its destructive role in the region."
"The latest case in hand, illustrative of gross violation of human rights and humanitarian rights of Palestinians, is the provocative and unilateral decision of the United States to recognize al-Quds [Jerusalem] as the capital of the Israeli regime," Avaei declared.
He did not directly address widespread criticism of Tehran's human rights record, although he did tell the HRC that recent reforms of its drug laws should lead to fewer executions. After China, Iran carries out the most executions of any country, according to human rights advocacy groups – more than 500 over the 12-month period from October 2016-October 2017.
While most executions have been for drug-related offenses, the death penalty is also applied for offenses including apostasy, insulting Mohammed, moharebeh ("enmity against Allah"), mofsed-e-filarz ("spreading corruption on earth"), and adultery.
In a separate statement Tuesday, the U.S. mission in Geneva said it was "appalled" that Iran was sending him, and urged U.N. member-states to condemn rights violators who attempt to use the HRC "as a platform to obfuscate their roles or distort the fundamental values this body was created to defend."
The European Union in 2011 instituted sanctions including a travel ban and an asset freeze against Avaei in his then-capacity as head of the judiciary in Tehran province. Avaei is also on a Swiss sanctions list, which cites the same issues. (Switzerland is not a member of the E.U.)
"As president of the Tehran judiciary he has been responsible for human rights violations, arbitrary arrests, denials of prisoners' rights and an increase in executions," it said.
Concerns about his career go back a lot further, however. The exiled opposition group National Council of Resistance of Iran (NCRI)/People's Mujahedeen Organization of Iran (MEK) accuses Avaei of involvement in the extrajudicial executions of thousands of dissidents in 1988. As a senior provincial judiciary official at the time, the NCRI alleges he was a member of one of the "death commissions" set up to carry out then-supreme leader Ayatollah Ruhollah Khomeini's mass execution decree.
And much more recently, the NCRI says that as justice minister Avaei is "implicated in the arrest of at least 8,000 people during the protests that shook Iran in late December and January, and in the killing of some 50 protesters on the streets or under torture."
The Iranian government's decision to name Minister of Justice Seyyed Alireza Avaei as its representative to the United Nations Human Rights Council—a man with an appalling human rights record that spans decades—reflects the Iranian government's complete disregard for human rights violations.
The Center for Human Rights in Iran (CHRI) urges the Member States of the Human Rights Council to register their profound concern at Iran's selection of an individual who is on the European Union's (EU) list of individuals sanctioned for gross violations of human rights.  According to the Council of the European Union, Avaei was "responsible for human rights violations, arbitrary arrests, denials of prisoners' rights and an increase of executions."
"With the selection of Avaei as their rep to the UN Human Rights Council, Iran is telling the world that human rights violators can not only commit their abuses with impunity in Iran, they will be rewarded," said Hadi Ghaemi, CHRI's executive director.
The Iranian Judiciary, which reports directly to Iran's supreme leader Ali Khamenei, and Iran's Foreign Ministry, which reports to President Hassan Rouhani, share responsibility for the selection of Avaei as minister of justice, and his appointment to head the UN's Human Rights Council.
"At a time when we are seeing egregious human rights violations in Iran, with no judicial oversight, investigation or remedy, the appointment of Avaei bodes poorly for any progress toward accountability," Ghaemi added.