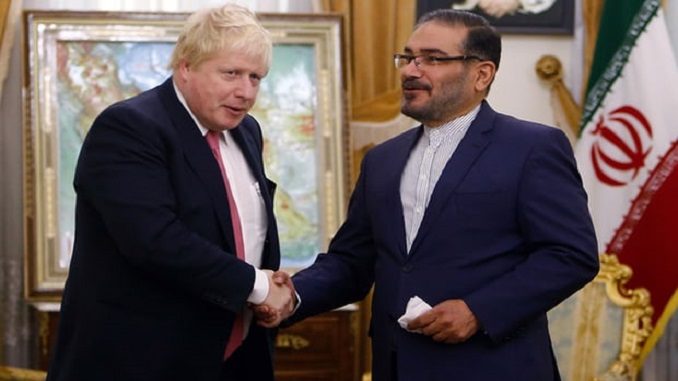 Boris Johnson, the UK foreign secretary, has ended his two-day visit to Iran without any announcement on the release of the British dual national Nazanin Zaghari-Ratcliffe, but has agreed with President Rouhani that Britain and Iran wanted to make progress "on the removal of all obstacles in the Anglo-Iranian relationship", The Guardian reports.
The brief statement came after Johnson met Rouhani for an hour to discuss regional and bilateral issues including U.S. and UK banking restrictions and UK concerns "about the consular cases of dual nationals".
"It has been a worthwhile visit and we leave with a sense that both sides want to keep up the momentum to resolve the difficult issues in the bilateral relationship and preserve the nuclear deal," the Foreign Office spokesman said.
Yet, hopes have been raised that the British-Iranian dual national Nazanin Zaghari-Ratcliffe could soon be freed from a Tehran prison after her expected appearance in court was postponed in the wake of a visit to the country by the UK foreign secretary.
Zaghari-Ratcliffe's case was complicated when Johnson wrongly told parliament she was training journalists in Iran, and it had been expected she would face fresh charges of espionage on Sunday, partly based on Johnson's remarks.
"I said I thought that, if the foreign secretary had a good Saturday, we might have a good Sunday, with a court case postponed. And so it has come to pass. Today is one of the good days in the past 20 months. This weekend we had our first ripple of freedom. We were fearing a bad day and we haven't had that, which makes it a good day. I guess we will see what the next few days mean. But it feels like it a really good sign, almost like we have a momentum – we have had a couple of things that have been positive over the weekend," Richard Ratcliffe, Nazanin's husband said.
During his visit, Johnson met most of the senior figures in Iranian politics, including the foreign minister, Javad Zarif, as well as Dr. Salehi, the head of Iran's Atomic Energy Association. Iranian news media accounts of the meetings did not focus on the Zagahari-Ratcliffe issue, but instead on what the UK could do to ease British banking restrictions that are holding back Iranian-UK trade in the wake of the lifting of sanctions made possible by the Iranian nuclear deal in 2015.
The visit, the first by a British foreign secretary for two years, gave Johnson a chance to underline that the UK remained staunch in its support of the Iran nuclear deal signed in 2015, even if the Iranians pressed him to do more to ease trade between the two countries by pressing UK commercial banks to finance deals.
On Sunday, Zaghari-Ratcliffe said she could "see some light" – more than she has before.
"The court, the imprisonment emerged all of a sudden out of the blue, so I hope it can disappear out of the blue also – if there is enough will. The other prisoners ask me if I have packed my bags and things. I am not ready to do that just yet. But if they call, I will just run. I don't care about my things. Apart from the things I have made for people at home, I would give the rest away. Freedom is too precious to think about things," she said.
She had been scheduled to face additional charges of spreading anti-government propaganda in court on Sunday. But a senior court official told Iran's Fars news agency that no hearing would be held.
"I … declare that no court session has been held for Ms. Nazanin Zaghari today," Moussa Qazanfarabadi, the Head of Tehran's Revolutionary Court said, the agency reported.
Iran's Foreign Ministry said Monday it will raise the case of a detained British-Iranian woman with the judiciary "out of humanitarian concerns" following a visit by Britain's foreign secretary.
Ministry spokesman Bahram Ghasemi said the final decision on whether to release Nazanin Zaghari-Ratcliffe, who is serving a five-year sentence for allegedly plotting to overthrow the government, rests with the judiciary.
"Zaghari-Ratcliffe "is considered an Iranian national and should serve her prison conviction according to the judicial system of Iran," he added.