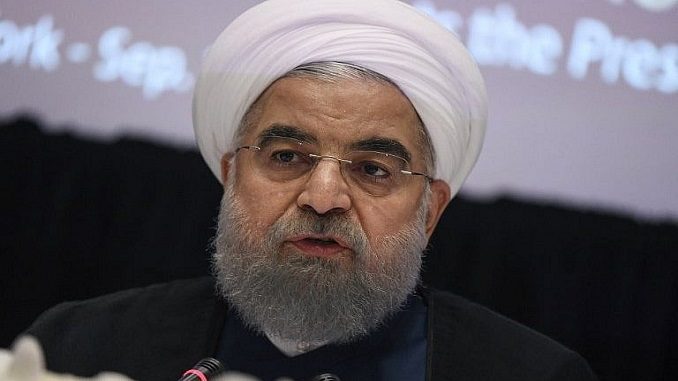 Iranian President Hassan Rouhani has rejected a request by his U.S. counterpart Donald Trump for face-to-face talks on the sidelines of the UN General Assembly conference in New York last month, a senior Iranian analyst disclosed on Sunday as quoted by Fars News Agency.
"U.S. President Trump has invited President Rouhani to a face-to-face meeting during Rouhani's visit to New York to participate in the UN annual conference in September but our president has turned down the offer," Mahdi Faza'eli wrote on Sunday, noting that the demand was raised one day after Trump's insulting speech against Iran at the UN.
Hours after initial FNA report on Sunday, Iranian Foreign Ministry Spokesman Bahram Qassemi confirmed Faza'eli's revelation, saying that "this willingness (to meet President Rouhani) was expressed by the American side, but was rejected by the Islamic Republic of Iran's president".
Defying the U.S., Iranian president Hassan Rouhani said on Sunday that Iran will continue to produce missiles for its defense and does not consider that a violation of international accords, Reuters reports.
Speaking days after the U.S. House of Representatives voted for new sanctions, saying its missile tests violate a UN resolution on Iran's ballistic missile program, part of an effort to clamp down on Tehran, he emphasized in a speech in parliament.
"We have built, are building and will continue to build missiles, and this violates no international agreements. We will produce any weapons of any kind that we need and stockpile it and use it at any time to defend ourselves," Rouhani said.
Iran denied seeking nuclear weapons and says it has no plans to build nuclear-capable missiles.
The Iranian president also criticized the U.S. over President Donald Trump's refusal to formally certify that Tehran is complying with the 2015 accord on Iran's nuclear program, even though international inspectors say it is.
"You are disregarding past negotiations and agreements approved by the UN Security Council and expect others to negotiate with you? Because of the behavior it has adopted, America should forget any future talks and agreement with other countries" Rouhani said in an apparent reference to North Korea.
Rouhani slammed Washington for failing to live up to its obligations under the 2015 nuclear deal, known as the Joint Comprehensive Plan of Action (JCPOA), describing any call by the U.S. for renegotiating the agreement as "ridiculous".
As opposition from the U.S. threatens to undermine a landmark international agreement to limit Iran's nuclear program, the head of the UN nuclear watchdog has arrived in Tehran for talks with senior Iranian officials, RFERL reports.
Yukiya Amano, director-general of the International Atomic Energy Agency (IAEA), "will focus on the IAEA's verification and monitoring of Iran's implementation" of the 2015 accord.
Amano, whose agency is in charge of monitoring the deal's restrictions, said the accord subjects Tehran to the world's toughest nuclear inspection regime. He said his inspectors had so far encountered no problems in investigating and determining whether Iran is complying with the deal.