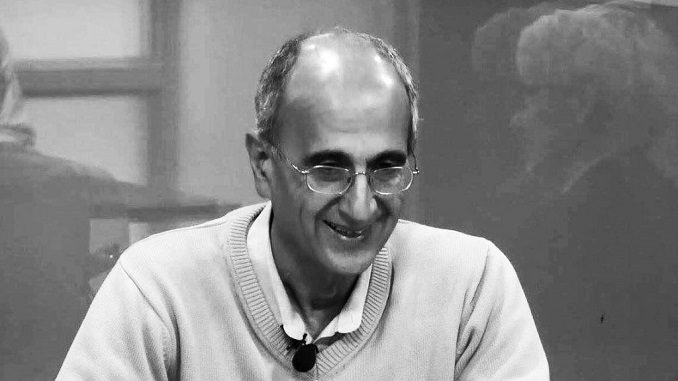 The Canadian government is calling on Iran to conduct an investigation into the death of an Iranian-Canadian professor, who died in a Tehran prison after his arrest on allegations of spying last month, The Globe and Mail reports. Kavous Seyed-Emami, 64, recently died under suspicious circumstances. His family was told last Friday by Iranian authorities that he died by suicide – a claim the family rejects. It is not clear exactly when he died.
Omar Alghabra, the parliamentary secretary to the Minister of Foreign Affairs, said Canada is "deeply concerned" about the circumstances surrounding Seyed-Emami's death.
"We are calling on the Iranian government to conduct a thorough and transparent investigation into his [Prof. Seyed-Emami's] death on behalf of the Canadian government. We are asking for answers," Mr. Alghabra said during the daily question period in Parliament Monday.
A senior Canadian government official said Canada asked for the investigation via diplomatic channels.
Canada's influence in Iran is limited following the closing of its embassy in Tehran in 2012, the same year that Canada listed Iran as a state supporter of terrorism. Canadian diplomats in Turkey have assumed the lead role for gathering information related to Professor Seyed-Emami's death.
The professor's family members are demanding that Iranian authorities allow an independent autopsy to be performed. However, their requests have so far not been heeded, according to a source with ties to the family who said the relatives are under intense pressure to accept the official line and stop requesting a post-mortem examination.
Although Alghabra said the investigation should address the cause and circumstances surrounding  Seyed-Emami's death, it's not clear if Canada specifically asked for an autopsy.
Amnesty International echoed the calls for an independent autopsy Monday, expressing concern that Professor Seyed-Emami's body could bear "incriminating signs of torture and other clues to the reasons for his death." In response to reports that the Iranian authorities have said they will refuse to release the body of Seyed-Emami to his family unless there is an immediate burial and no attempt to conduct an independent autopsy, Magdalena Mughrabi, Amnesty International's Deputy Director for the Middle East and Africa said:
"The authorities' refusal to allow an independent investigation into the extremely suspicious death of Dr. Seyed-Emami smacks of a deliberately orchestrated attempt to cover up any evidence of torture and possible murder. He was detained in Evin prison where detainees are held under constant surveillance and stripped of all personal possessions. It would have been near impossible for him to commit suicide.
"We are deeply concerned that Dr. Seyed-Emami's body bears incriminating signs of torture and other clues to the reasons for his death. We call on the Canadian government and the international community to continue to place pressure on the Iranian authorities to allow an independent investigation into the circumstances of Dr. Seyed-Emami's death in accordance with international standards. Those responsible, including any individual with command responsibility, must be brought to justice."
Hadi Ghaemi, executive director of the New-York-based Center for Human Rights in Iran, reiterated calls for the Canadian government to intervene quickly to clearly urge Iran to allow an independent autopsy according to the family's wishes, saying the window was closing given the burial has been scheduled.
"They should back up the family's call for an autopsy and determination of cause of death. We're calling on them to really not let another citizen of Canada perish in Iran's prisons without the Canadian government doing anything at the most critical moment," he said, referring to Iranian-Canadian photojournalist Zahra Kazemi, who died after being tortured in an Iranian prison in 2003.
He pointed it is now up to Canada to demand an independent autopsy before Professor Seyed-Emami's body is buried.
"If we don't hear much international protest in the next 48 hours, the Iranian government's going to literally get away with murder," Ghaemi said in an interview on Sunday.
He said Canada has the ability to lead an international campaign to pressure Iran, possibly through the United Nations.
"[Canadian elected officials] have to take the lead internationally, demanding accountability and an investigation," he said. "They have a lot of legitimacy [with] all the other governments to be leading the international efforts and I hope they step up to the plate and do that."
Sources close to the family have said that Seyed-Emami's family is under constant surveillance, with police posted at the house and that the family is under enormous pressure not to speak to anyone about the case and to quickly bury the body without any public funeral or memorial service.
There are worries that people close to the case will be subjected to forced statements that confirm the state narrative of the events surrounding Seyed-Emami's death. Iran has a long and documented history of forcing individuals to make false statements and confessions.
The prosecutor's incredulous claim of knowing the reason for an individual's alleged suicide casts further doubt on what can only be described as the state's increasingly desperate attempts to cover up the events leading to the death of Seyed-Emami.
The Judiciary has told the family they will receive the body on Tuesday morning on the condition that they immediately and quietly bury him, according to the relative abroad. A funeral is planned for Tuesday morning in the village of Amameh in the mountains north of Tehran.
A steady procession of friends, family, students and colleagues visited the family home on Monday under the surveillance of police officers stationed near the house.