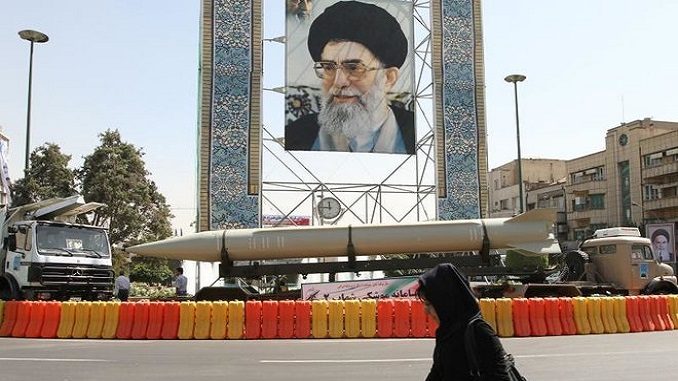 Iran marked on Saturday the anniversary of the U.S. Embassy takeover and hostage crisis of 1979 during which it displayed a ground-to-ground missile at a time when the future of its nuclear deal with world powers is highly uncertain.
Thousands of people flocked to the U.S. Embassy in Tehran to see the missile, which is assumed to be a solid-fuel Sejjil missile with an operational range of 2,000 km. Later the same day, the Tasnim news agency reported it was a 2,000-kilometer-range Qadr-F missile.
The Washington Post reports that Iran has never before displayed a missile during the annual events marking the anniversary. During the gathering people could be heard chanting "Down with the U.S." and "Death to Israel." Similar celebrations were held in other cities as well.
The secretary of Iran's Supreme National Security Council, Ali Shamkhani, said President Donald Trump "has no power to realize his bluffs, against Iran," alluding to his decision to decertify the 2015 nuclear deal. Shamkhani added that the sanctions which the U.S. imposed on Iran will be made "innefective", referring to the U.S. as Iran's "eternal enemy."
The crowds gathered at the celebration burned U.S. and Israeli flags and an effigy of Donald Trump.  In October, Trump decertified the Iran nuclear deal and reimposed sanctions on the country's ballistic missile program.
After the 1979 Islamic Revolution, several hundred militant Iranian students, who called themselves the Muslim Students Following the Line of the Imam, captured the U.S. Embassy in Tehran and held captive 52 embassy employees. Washington declined to hand over Shah Mohammad Reza Pahlavi and as a result the students held the employees hostage for over 400 days.
The embassy has now been turned into a cultural center and is referred by many as a "den of spies." Since the 1979 takeover all diplomatic ties have been severed between the U.S. and Iran.