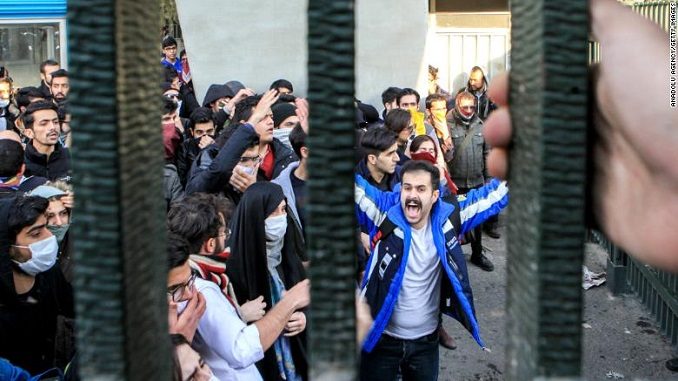 Tewelve people were killed during street protests in Iran on Sunday, state television said on Monday. The nationwide protests have drawn in tens of thousands of people and represent the boldest challenge to Iran's leadership since pro-reform unrest in 2009. Calls for more demonstrations on Monday raise the possibility of prolonged instability, Reuters reports.
"In the events of last night, unfortunately, a total of about 10 people were killed in several cities," state television said while showing footage of damage from the demonstrations. It gave no further details of the deaths.
The unrest erupted in the second city of Mashhad against price rises but it swiftly spread and turned into political rallies. Demonstrators say they are angry over corruption and economic hardship in a country where youth unemployment reached 28.8 percent last year. Some called on Supreme Leader Ayatollah Ali Khamenei to step down and chanted against a government they described as thieves.
"I do not know whether yesterday's shooting was done by rally participants or the police and this issue is being investigated," Hedayatollah Khademi was quoted as saying.
Hundreds of people have been arrested but security forces have largely shown restraint.
The violence continued for a fourth day on Sunday despite President Hassan Rouhani's appeal for calm. In a pre-recorded address aired on state TV, Rouhani said that while Iranians had the right to criticize authorities, the government would show no tolerance for those stoking unrest.
"We are a free nation, and according to the constitution and citizen rights, the people are free to express their criticism and even their protests. But criticism should not be accompanied with violence or vandalizing public property. The government will show no tolerance for those who damage public properties, violate public order and create unrest in the society," Rouhani said and also acknowledged public concerns over the economy and corruption.
Earlier, state-run media outlet IRIB reported that Iranian officials had temporarily restricted access to social media apps Instagram and Telegram, which have been used by Iranians to share news about the protests. Associated Press report says that the public discontent has been fanned by messages sent on the Telegram messaging app, which Iranian authorities blocked Sunday along with the photo-sharing app Instagram, which is owned by tech giant Facebook.
Social media has helped galvanize tens of thousands participating in the protests — described as the largest public display of discontent in Iran since the 2009 Green Movement, when people took to the streets to dispute the election of President Mahmoud Ahmadinejad. Unsigned statements posted on social media urged Iranians to demonstrate again in the capital Tehran and 50 other urban centers.
The government warned on Sunday that protesters would suffer severe consequences if demonstrations continued.
"Those who damage public property, violate law and order and create unrest are responsible for their actions and should pay the price," Interior Minister Abdolreza Rahmani Fazli told Iranian state media, according to Reuters.
Two people were shot dead in the southwestern town of Izeh on Sunday and several others were injured, ILNA news agency quoted a member of parliament as saying. It was not clear if the two dead were part of the 10 cited on state television. Two protesters were shot in the town of Dorud in Iran's Lorestan province Saturday night, the government confirmed. The deputy governor of Lorestan, Habibollah Khojastehpour, said foreign agents were responsible.
"No shots were fired by the police and security forces. We have found evidence of enemies of the revolution, [Sunni militant] groups and foreign agents in this clash," according to a Reuters translation of comments on the semi-official Mehr News.
Police in the center of Tehran fired water cannon on Sunday to try to disperse demonstrators, according to pictures on social media. Demonstrations turned violent in Shahin Shahr in central Iran. Videos showed protesters attacking the police, turning over a car and setting it on fire. Reuters could not immediately verify the authenticity of the footage. There were also reports of demonstrations in the western cities of Sanandaj and Kermanshah as well as Chabahar in the southeast and Ilam and Izeh in the southwest.
Up to 400 people are reported to have been arrested in recent days, including 200 in Tehran on Saturday night. On Sunday police used water cannon to disperse protesters at a major intersection, as captured in a video obtained by BBC Persian.
A common element of all protests has been a call for the end of clerical rule in Iran, according to the BBC's Kasra Naji. The country's clerics have maintained power since the country's Islamic Revolution of 1979.  Other motivations behind protests are frustration over economic struggles and alleged corruption, reports say.