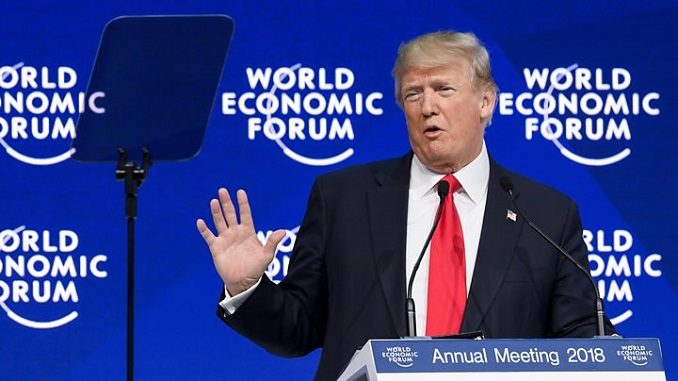 United States President Donald Trump called on world powers to do more to confront the threat posed by Iran due to its alleged support of terror groups, Arab News informs.
While addressing the World Economic Forum in Davos, a gathering of generally pro-free-trade political and business leaders, Trump called the partners of the United States to block Iran's path to nuclear weapons.
"We continue to call on partners to confront Iran's support for terrorists and block Iran's path to a nuclear weapon," Trump told the forum.
The president of the United States used the opportunity to call for "maximum pressure" to de-nuke the Korean Peninsula and talked about many more issues. Meanwhile, U.S. Secretary of State Rex Tillerson said American, British, French and German officials met this week to begin formal discussions on addressing U.S. concerns about the Iran nuclear deal.
"President Trump's been quite clear on his view that that agreement had a number of flaws and he intends to have those flaws addressed. What we have agreed to do is work with our European counterparts…and ultimately the EU to identify what areas we believe have to be addressed and the mechanism by which we can address those," Tillerson stated. Even though Tillerson said that working groups would meet as early as next week to discuss the deal, an unnamed person briefed on the meeting said that Brian Hook, Tillerson's close aide, met with European officials to begin the formal talks in London while Tillerson was in Davos.
"Working groups have already begun meeting on the effort to agree on principles, what is the scope of what we will intend to address and also how might we engage the Iranians on discussions to address these issues," Tillerson said and added that the Trump administration's Iran policy is broader than addressing its concerns with the nuclear accord.
Iranian officials said that they won't take part in any efforts to change the deal.