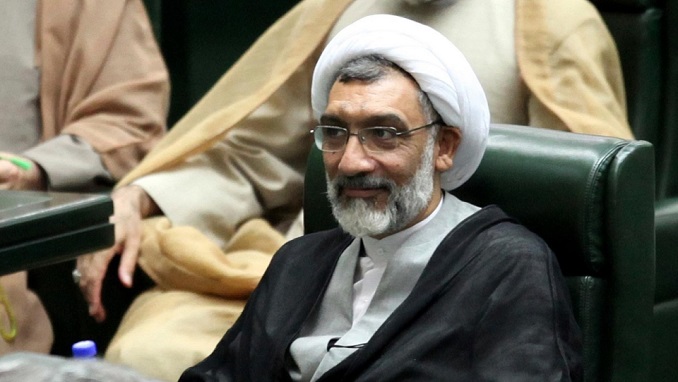 The Iranian regime's Supreme Leader Ali Khamenei has appointed Motafa Pour-Mohammadi, a member of the "Death Committee" responsible for the massacre of some 30,000 political prisoners in 1988, to a high-level post in the Iranian regime's judiciary.
Pour-Mohammadi, was a minister of justice up to last week when Hassan Rouhani was forced to remove him due to widespread activities by opposition inside and outside of the country. Hassan Rouhani's new minister of Justice Seyed Alireza Avai sanctioned by EU for human rights violations has been also a member of "Death Committee" in the southern province of Khuzestan.
Upon an order by Ali Khamenei Pour-Mohammadi was appointed as an advisor to head of the Iranian regime's judiciary Sadegh Larijani. Introducing Pour-Mohammadi as an advisor, Mohseni Eje'i, the judiciary's first deputy emphasized the importance of the Ministry of Justice within the regime and the previous post, Pour-Mohammadi held.
"Justice Ministry is the only ministry that all three branches are involved in." he said.
It should be noted that prior to Pour-Mohammadi and Avai, former justice ministers Morteza Bakhtiari and Esmail Shooshtari were also among the perpetrators of the 1988 massacre of political prisoners. This fact clearly demonstrates the extent that the existence of the regime is intertwined with execution and mass murder of political prisoners. All the key positions of power are in the hands of persons who either have been involved in the massacre or at least have been a staunch supporter of the massacre.
Mohseni Eje'I, the current first deputy of the judiciary, who has played a prominent role in torture and execution of political prisoners over the years, has held senior positions within the regime including the Attorney General, and the representative of the judiciary in the Ministry of Intelligence and Security (MOIS).
He has been among the perpetrators of 1988 massacre, assassination of opponents abroad, and Chain Murders. He also has been involved in bloody crackdown of 2009 protests. The U.S. and the European Union sanctioned Mohseni Eje'I for serious violations of human rights on September 30, 2010, and April 13, 2011.