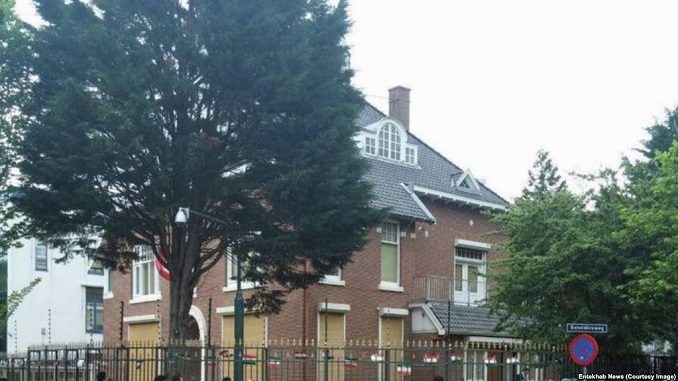 Eight people have been detained in The Hague after they broke into the Iranian embassy and threw projectiles at the building, police said on Saturday as quoted by Radio Farda. The suspects were arrested on Friday accused of a variety of offenses including sedition, disrupting public order, attempted arson and unauthorized entry, police spokeswoman Hilda Vijverberg told AFP.
Footage on public broadcaster NOS shows a group of men shouting "Death to the Islamic Republic" in Farsi, climbing the barrier into the embassy compound and hurling what were probably eggs or pebbles at the building.
Dozens of protesters staged demonstrations in The Hague and Amsterdam against the Iranian regime on Tuesday. Iran itself has been rocked by days of opposition protests over the state of the economy and against the regime which left 21 people dead.
Meanwhile, a group of Iranian and Belgian political activists, students, and citizens in Diaspora gathered in front of the Iranian embassy in Brussels to show support for their compatriots in Iran. As the protests in Iran continue, there are more and more calls to action in European countries by Iranian activists in diaspora. Demonstrations are mostly take place in front of the Iranian embassies in Europe.
One of these demonstrations took place in Brussels, the capital of Europe with participation from Belgian LSP (Left Socialist Party), Iranian feminist organisations, "Women for 8 March" (Afghanistan-Iran), the voice of Ahwazi women.
According to one of the organizers, the reason for this gathering is to show our solidarity with the Iranian people.
"We do not believe in the discourse that that has been going around that opposition outside does not get a say in what is going on inside the country, we are forced to live in exile, but that does not mean we do not have any responsibility when it comes to the future of our country. The role of the opposition outside of the country was essential in the overthrow of the Shah. We heard what people are chanting in the street and we repeat it, the need for 'bread, jobs and freedom'."