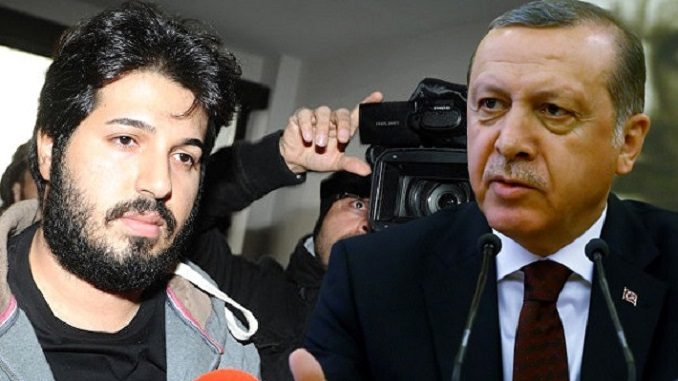 Turkish President Recep Tayyip Erdogan personally intervened in a scheme that allowed Iran to dodge U.S. and UN sanctions, a gold trader with ties to the Turkish government claimed in explosive court testimony in New York on Thursday, CNN reports.
It's the first time Erdogan has been named in the closely-watched U.S. criminal case over Iran's violations of international sanctions and movement of billions of dollars. The case's central figure, Reza Zarrab, an Iranian-Turkish gold trader, was arrested in Miami last year and has since been the case's top named defendant. There are eight other defendants facing similar charges. He quietly cut a plea deal last month and admitted to defrauding the United States, money laundering, and bank fraud, according to court documents.
On Thursday, Zarrab testified in federal court about Erdogan's alleged role in Zarrab's scheme, which involved laundering funds from Iranian oil and gas sales through Turkish banks, including the state-run bank, Halkbank.  Prosecutors showed the jury a transcript of a 2012 call in which Zarrab talked about which banks would be used for such transactions.
The prime minister of that time, Recep Tayyip Erdogan, and [then] Minister of Treasury Ali Babacan had given orders for them to start the trades, the banks," Zarrab said Thursday.
In their court filings, the U.S. government has not alleged that Erdogan cooperated in the scheme.
Zarrab said he received this information from the government official he claims to have bribed to take part in the scheme, former Turkish economy minister Zafer Caglayan. Caglayan denied all allegations in a Turkish probe into these allegations that started in 2013.
Turkey's government has previously said that Caglayan acted lawfully, and Halkbank has said it acted lawfully as well. Zarrab said that he had tried to duplicate his scheme in China before Chinese banks shut him down. Zarrab said he established a company in China in an attempt to get Iran's crude oil proceeds out of Chinese banks and into Turkey, where it could be more easily laundered, and detailed meetings where he discussed a similar scheme involving companies in India.
He said he paid a $100,000 bribe to Baris Guler, the son of then-interior minister Muammer Guler, to get a letter of reference from the Turkish government to present to Chinese banks. Despite U.S. sanctions on Iran, the country still has energy ties and sells crude oil to countries such as Turkey, India and China.
Zarrab testified that when the amount of money illegally flowing through Turkey's Halkbank became too much to handle, Erdogan approved getting two more Turkish banks involved: VakıfBank and Ziraat Bank.
Erdogan has consistently condemned the American investigation into the scheme, raising the matter repeatedly with American officials, including President Trump in September. On Thursday, before  Zarrab told his story to jurors in Federal District Court in New York, Erdogan said:
"We did not breach the sanctions. Whatever the verdict is, we did the right thing. We have never made commitments to the U.S. on our energy ties with Iran. The world is not only about the U.S. We also have trade and energy relations with Iran,"," he said at a closed meeting with his deputies, Turkish state media reported.
At the same time, Turkish officials are working overtime to discredit testimony at a New York trial implicating Erdogan and other top officials in a multimillion-dollar bribery scheme designed to help Iran skirt international sanctions. Turkey has gone on an all-out offensive against Zarrab and the prosecutors in the case.
The officials have described the proceedings as a "mockery" and "theater" aimed at overthrowing the Turkish government, even suggesting that Fethullah Gulen, a Turkish cleric living in the U.S. state of Pennsylvania, is "pulling the strings" behind the prosecution. U.S. officials and prosecutors strongly deny the allegations.  Deputy Prime Minister Bekir Bozdag told Turkey's Anatolia News Agency that the judicial process is a "plot against Turkey and President Erdogan," saying Zarrab had become "a false witness under duress."
"A theater is being staged in New York by the courts," Bozdag said.
Meanwhile, Turkish state lender Halkbank on Thursday denied allegations that it was involved in illegal transactions designed to help Iran avoid U.S. sanctions, following testimony in New York against its former deputy general manager.
"Our bank has not been a part to any transaction which is uncertain and illegal relating to any country and has not executed any transfer transaction which is uncertain and unlawful. There is no systematic and conscious violation of transactions… as it is alleged and it has not been intermediated in the export of prohibited parties and goods," it said in a statement.
According to local media reports, Zarrab also testified that he used Denizbank for some transactions. Denizbank, which is a subsidiary of Russian banking giant Sberbank, disputed the reported allegations on Thursday, saying that it did not have any dealings with the shipping group owned by Zarrab.
"Our transactions only revolved around buying and selling gold domestically, and there were no foreign transactions," it said in a statement. "Our bank… has had no dealings with the Royal Shipping group owned by Reza Zarrab."
Turkey's banking watchdog Banking Regulation and Supervision Agency (BDDK) last month denied a local media report that six Turkish lenders could face substantial fines from the U.S. over alleged violation of Iran sanctions.