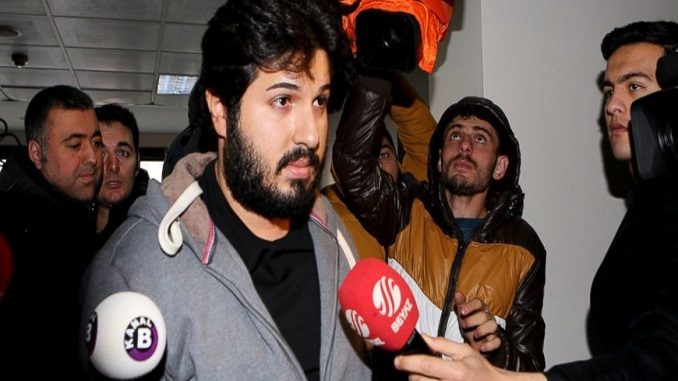 Reza Zarrab, the Iranian-Turkish gold trader who took the stand in a Manhattan courtroom on November 29, has confessed he worked with several Iranian officials to bypass sanctions on Iran, Iran Wire reports. He also testified about a vast international money-laundering scheme masterminded by senior Iranian and Turkish officials to bypass the sanctions.
In December 2013, when Zarrab was arrested in Turkey on bribery, corruption and smuggling charges, Turkish media reported that his case revealed improper transactions up to the amount of €87 billion, and that he had transferred €37 billion from Iran to Turkey. Turkish officials released him, but later, while he was in the United States, U.S. officials arrested him on March 19, 2016 for conspiring to evade U.S. sanctions on Iran.
But what about the Iranian officials with whom he was in contact?
Zarrab testified that he was in contact with former president Mahmoud Ahmadinejad. In a letter to Ahmadinejad, he had referred to his money-laundering activities during the sanctions as "a financial jihad."
The second name that was pointed is the of Mahmoud Bahmani , who served as the last director of the Iranian Central Bank under the presidency of Ahmadinejad. Reza Zarrab testified that he had met with him personally. Bahmani — who is now a member of the Iranian parliament — also turns up in the case of Babak Zanjani, the billionaire who has been sentenced to death in Iran on various charges, including "disrupting the economic order of Iran," "extensive swindling of the Iranian National Oil Company," "money laundering" and "spreading lies."
Bahmani and four Ahmadinejad cabinet ministers had signed a letter allowing Zanjani to engage in banking transactions. Bahmani has boasted that he used a motorboat in the Persian Gulf to bring cash into Iran. It is not clear whether he is talking about the money that Reza Zarrab has stashed in Dubai or about another money-laundering scheme.
Reza Zarrab stated that he had met with the director general of Iran's Central Bank security to discuss how to transfer the money from oil sales, transactions that violated the sanctions. He did not specify a date. However, in May 2012, the Iranian judiciary announced that it had arrested the director general of the Central Bank's security unit for corruption. At the time it was reported that his arrest was "currency-related," and some bank officials from branches in Dubai were summoned too. The outcome of the case remains unknown, and it is not clear whether the case was related to Reza Zarrab's network or not.
 Hossein Najafzadeh, a senior officer at a unit of Bank Mellat in Iran,  had been named before in the indictment against Zarrab. The indictment identified him as a senior official in charge of currency transactions at Bank Mellat, which has a branch in Istanbul, Turkey.
Prosecutors said the suspects and unnamed co-conspirators conducted hundreds of millions of dollars' worth of transactions barred by U.S. and international economic sanctions on behalf of the Iranian government and Iranian businesses, including Bank Mellat, one of Iran's largest banks.
Zarrab's employee, Turkish Iranian citizen Kamelia Jamshidy was also charged. In 2013, the Turkish police hoped to arrest her but she escaped, leaving Turkey to travel to Dubai one day before her arrest warrant was issued.
Next on the co-conspirators' list is Hamid Reza Rasaei.  A hardliner former member of the parliament and a supporter of Ahmadinejad, Rasaei has been pulled into court on charges of corruption on a number of occasions. He was disqualified from running for parliament because of the charges. Ten years ago, when he was first accused of corruption, Rasaei was the director general of Qom's Bureau of Culture and Islamic Guidance. However, since then, there have been widespread allegations that he has been involved, and been successful, in much larger corruption schemes.
Reza Zarrab also confessed to working with the Iranian Bank Sarmayeh to send money to Iran at the daily rate of somewhere between €5 million to €10 million. It is likely that, in the course of the case unfolding, other names will be disclosed. Earlier, the name of Zarrab's brother Mohammad had also been raised in relation to the case.
Zarrab's testimony continues for two more days. He has pleaded guilty and agreed to cooperate in exchange for leniency, so he is no longer in jail; the FBI is holding him at an undisclosed location. The next stages of his testimony are bound to be as sensational and intriguing as was his first day of giving evidence.