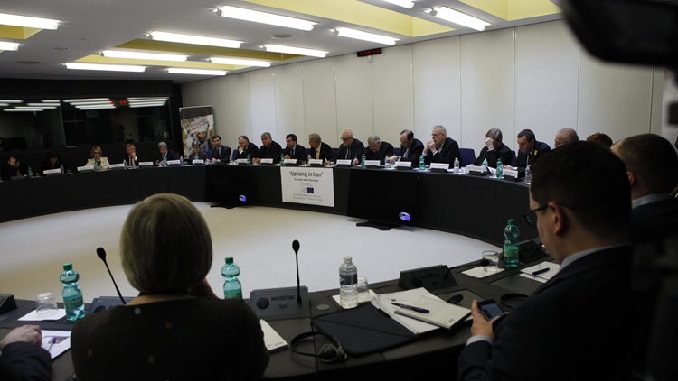 The European Parliament held a special meeting in support of the widespread Iran protests, which has now spread to 142 cities and to all 31 provinces. The special meeting was held in Strasbourg on Wednesday, February 7, Iran Focus informs.
The meeting, which took place on the 39th anniversary of the 1979 anti-monarchic revolution, was headed by Gérard Deprez, Chair of the Friends of a Free Iran intergroup, and Tunne Kelam.
Dr Alejo Vidal-Quadras, a former vice-president of the European Parliament, and Farzin Hashemi from the Iranian opposition National Council of Resistance of Iran (NCRI) were guest speakers.
During the meeting, the MEPs discussed that the Iranian people (particularly the youth) are fed up with the Mullah's fundamentalist rule and have made it clear that they see regime change as the only solutions, as evidenced by their chants of "down with [the] dictator," "down with [Supreme Leader Ali] Khamenei" and "down with [President Hassan] Rouhani".
They agreed that the European Union must act to protect the human rights of the protesters and that the silence of EU High Representative Federica Mogherini and other EU officials is shameful.
The MEPs insisted that the EU needs to set new human rights sanctions and make trade with Iran conditional to the release of political prisoners.
"Considering the blatant violations of human rights in Iran and the imminent threat to the lives of the detainees, MEPs expressed their support for the recent statement by NCRI president-elect Maryam Rajavi in the Council of Europe on 24 January 2018 who had called upon the EU, European governments and other international institutions to adopt effective measures and binding decisions to compel the religious dictatorship ruling Iran to release the prisoners of the uprising, uphold freedom of expression and association, end repression against women and repeal the laws imposing the compulsory veil," Deprez wrote In a statement.
This suppression is not silencing the people's legitimate protest though, as a new round of anti-government protests sprang up in early February, and some 150 protests a day happened in 2017.
Iran has blamed these protests on the West and Iranian opposition group, the People's Mojahedin Organization of Iran (PMOI/MEK), but in doing this, the Regime is admitting that the people of Iran are more loyal to the MEK than to the Regime. The real reason that the Regime is suppressing the protests is that they're scared of losing control.
Dozens of MEPs from various political groups attended the meeting, including: Franc Bogovič, Cristian Bușoi, David Campbell Bannerman, Pál Csáky, Mark Demesmaeker, Stefan Eck, José Inácio Faria, Eduard Kukan, Svetoslav Malinov, Anthea Mcintyre, Jozo Radoš, Petri Sarvamaa, Jaromír Štětina, Patrizia Toia, Bogdan Wenta, Laima Liucija Andrikienė, Beatriz Becerra, Arne Gericke, María Teresa Giménez Barbat, Francis Zammit Dimech and Milan Zver.