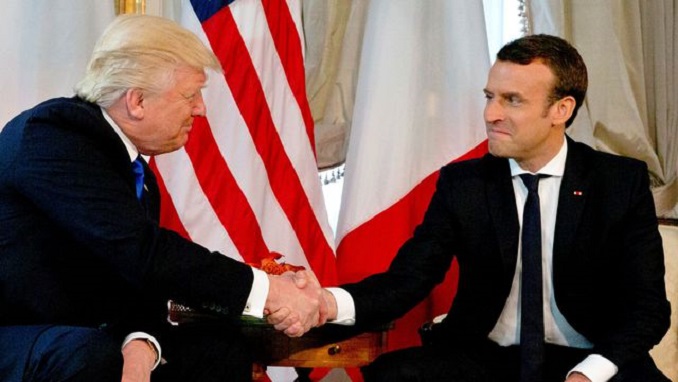 French President Emmanuel Macron in talks with his U.S. and Iranian counterparts has raised the possibility of renegotiating provisions of the 2015 Iran nuclear deal after their scheduled expiration in 2025, French officials said as quoted by RFERL.
The possibility was raised in separate one-on-one meetings with U.S. President Donald Trump and Iranian President Hassan Rohani on September 18 on the sidelines of the United Nations General Assembly in New York.
The pact between Tehran and six world powers, which calls for Iran to curb its nuclear program in return for relief from economic sanctions, is under threat as Trump must decide by Oct. 15 whether to certify Iran is keeping its end of the bargain.
French Foreign Minister Jean-Yves Le Drian said Macron sought to persuade Trump not to abandon the deal, as Trump has threatened to do repeatedly, because that risks triggering a renewed arms race to develop nuclear weapons in the Middle East.
To encourage Trump to stick with the deal, Le Drian said Macron expressed his willingness to return to negotiations over provisions that expire in 2025, such as its limits on Iran's uranium enrichment activities, pinpointing a grievance which is often cited by Israel and other opponents as their reason for rejecting the deal.
Reuters quoted a senior French official as saying that Macron also warned Rouhani that Tehran should stop provoking the United States with its activities in Syria, Lebanon, and Yemen.
"We feel the post-2025 subject is a red line, but our president put it on the table because it's a concern and a legitimate request that we must make. 2025 will arrive quickly and we have to be ready before January 1, 2025, so he asked that we think together how to work on this question," the official told Reuters.
The U.S. State Department confirmed that Trump and Macron discussed the Iran deal but did not say they discussed any renegotiation of sunsetted provisions.
Brian Hook, director of policy planning at the U.S. State Department, said Trump told Macron about the problems he sees with what he called a "deeply flawed" deal, and said he is still considering abandoning it in a decision expected next month.
Iran Supreme Leader Ayatollah Ali Khamenei warned on Sunday that Tehran would react strongly to any "wrong move" by Washington on the nuclear deal.