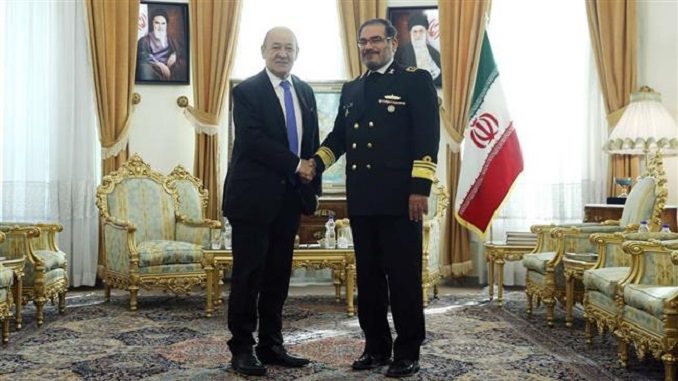 Foreign Minister Jean-Yves Le Drian is in Tehran for a two-day visit which is expected to be far from easy after a series of harsh statements made by French leaders about Iran's missile program and its role in the Middle East, Press TV reports.
The top French diplomat was greeted by a group of protesters as his flight touched down at Tehran's Mehrabad airport mid-night Sunday. The protesters carried placards which read "Iran is not Libya," in an apparent reference to France's role in NATO's bombing of the African country and the ouster of Muammar Gaddafi. Ahead of his visit, Le Drian said Iran should address "concerns" over its ballistic missile program or risk new sanctions.
"There are ballistic programs of missiles that can reach several thousand kilometers which are not compatible with UN Security Council resolutions and exceed the sole need of defending Iran's borders. If not tackled head-on, this country risks new sanctions," he told the Journal du Dimanche newspaper.
Le Drian will tell Iran it must address the West's misgivings about its ballistic missile program and military activities around the Middle East – points the White House says need attention if the nuclear pact is to survive.
"We're not going to be Donald Trump's envoys or Iran's defense lawyers. We have our own concerns and will talk to the different sensibilities of the Iranian system to get our point across," said a French diplomatic source.
Le Drian said on Sunday that Iran needed to address concerns over its ballistic missile program or risk new sanctions. Iran immediately rejected France's concern over its missile program as "wrong", the semi-official Fars News agency said.
Hardline media reacted angrily to Le Drian's remarks with headlines like "Rude guest" and "Weapons of mass seduction lands in Tehran," while highlighting Iran's determination to go ahead with its missile program.
Le Drian is due to meet Rouhani and Foreign Minister Mohammad Javad Zarif as well as officials close to Khamenei, including Ali Shamkhani, secretary of the Supreme National Security Council. Khamenei said on March 1 that Iran would keep supporting Assad's war effort and a Foreign Ministry spokesman on Sunday rejected Macron's comments about Iran's missile program, insisting that its "defensive missile work" would continue.
An official close to Rouhani said Iran "has always been open to talks and to resolve issues through diplomacy… but this does not mean we will yield to unjust pressure over our inevitable rights, whether defensive or anything else." Iran's Foreign Ministry has said that it is expecting "frank" negotiations.
"We certainly have to have absolutely frank talks with the French foreign minister regarding the JCPOA," ministry spokesman Bahram Qassemi said, referring to the Joint Comprehensive Plan of Action or the 2015 nuclear deal with Iran.
Iran may be forced to leave the deal if the "destructive atmosphere" created by Trump doesn't end, Deputy Foreign Minister Abbas Araghchi said in February. Tehran "cannot remain in a deal in which there is no benefit for us," he said.
Le Drian's Monday trip — the first by an official in President Emmanuel Macron's administration — is a balancing act. He'll need to reassure Iran of the European commitment to delivering economic benefits that were promised in the 2015 deal in return for curbing its nuclear program. But he must appease Trump, who's vowed to back out of the multinational pact if Europe doesn't help "fix" its "flaws."
The trip is a foreign policy test for Macron, who's managed to cultivate a closer relationship with the "America First" president than have other European leaders.
"It will signal whether France is independent and its relations with Iran are based on its own national interests rather than aligned with U.S. policy," said Clement Therme, a research fellow with London's International Institute for Strategic Studies who focuses on Iran.
While France says Iran is sticking to the terms of the nuclear deal, it may not be respecting part of UN resolution 2231 that calls on it to refrain from work on ballistic missiles designed to carry nuclear warheads. The resolution enshrines the nuclear deal, which itself makes no explicit reference to the ballistics program, but it is unclear whether the wording binds Tehran to an obligatory commitment on missiles.
"On the ballistics, the Iranian program is not compatible with 2231 and we have a particular concern on the transfer of know-how of ballistic capacity to regional actors and by that we mean Hezbollah," said the diplomatic source.
U.S. officials have been holding intensive talks with their counterparts in France, Germany, and the UK — which joined Russia, China, and the U.S. in crafting the accord with Iran — on how to address Trump's concerns. The effective deadline is May 12, the next time Trump is due to decide whether to continue waiving sanctions under a U.S. law.
While Trump has called, in effect, for reopening the nuclear deal by making permanent some restrictions on Iran's uranium enrichment that expire over coming years, Europeans are focusing on complaints that aren't within the four corners of the accord — including the ballistic missile program and Iran's expanding involvement in regional strife.
"The main thing the French need to tell Iran is that we are trying to create conditions whereby this deal can be sustained with U.S. participation. They will also want to have quite a robust conversation to address European security issues in the region, which includes conflict in Yemen and Syria and the missiles program," said Ellie Geranmayeh, a senior policy fellow at the European Council of Foreign Relations.
France has urged Washington to see the nuclear deal separately from Iran's regional activities and its missile program, and Le Drian will stress Macron's commitment to the nuclear accord, especially as Iran is respecting its terms, French officials said.