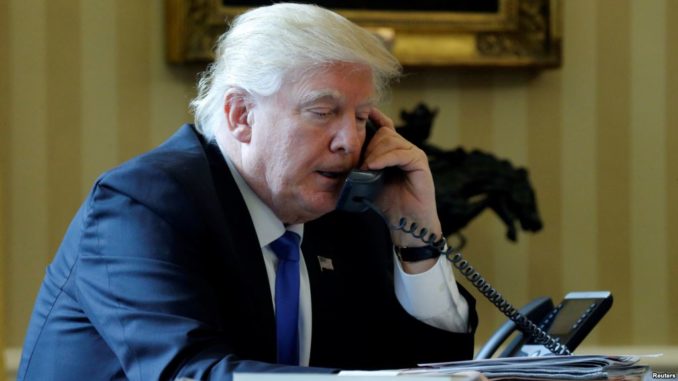 U.S. President Donald Trump discussed Iran's "destabilizing activities" and other security and economic issues in separate telephone calls with senior Saudi and Emirati leaders on Tuesday, the White House said as quoted by Reuters.
In calls with Saudi Crown Prince Mohammed bin Salman and Abu Dhabi Crown Prince Sheikh Mohammed bin Zayed al-Nahyan of the United Arab Emirates, Trump thanked them for highlighting ways that Gulf Arab states "can better counter Iranian destabilizing activities and defeat terrorists and extremists," the White House said.
Saudi Arabia and the UAE, along with Bahrain and Egypt, cut off travel and trade ties with Qatar in June, accusing it of supporting terrorism and their arch-rival Iran. The United States is trying to resolve the dispute.
Qatar denies the charges and says the four Arab countries aim to curtail its sovereignty.
The two crown princes, as well as Qatar's Emir Sheikh Tamim bin Hamad al-Thani, are planning to visit Trump for bilateral meetings in March and April, a senior U.S. official said on Friday. The agenda for the meetings will include setting up a summit of the six-member Gulf Cooperation Council, the official said, which Washington hopes will be held later this year, as well as Middle East peace and Iran.
Trump also discussed enhancing bilateral partnerships on security and economic issues with the Saudi and Abu Dhabi crown princes, the White House said.
The UAE's Minister of Foreign Affairs, Anwar al-Gargash, said on Wednesday that as time goes by the evidence of Iranian intervention in Yemen has become clearer. Making his statements on Twitter, Gargash reaffirmed the correct decision taken by Saudi Arabia to intervene in Yemen. He also stressed that the UAE is living up to its role in the Arab Coalition.
On this, he said, "Our sons' sacrifices are for the future of their country and the whole region."
About the intervention in Yemen, Gargash said, "There is no doubt that this is a difficult test, but it is a must. The end goal is clear and strategic, and it is to achieve security and stability in the Arab peninsula for generations to come."
The minister continued: "To achieve this strategic goal, the Riyadh-led Arab Coalition in undertaking important political, military, humanitarian and security missions, through which, we will accomplish our goal of a stable and flourishing Yemen acting in its natural environment."