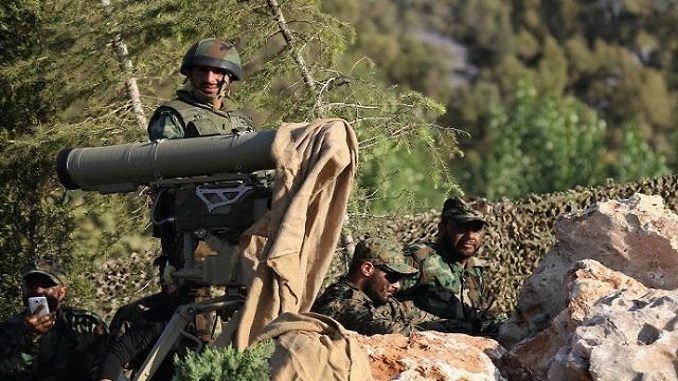 Israel's top military spokesman accused Iran of turning Lebanon into "one big missile factory," in a rare Arabic op-ed published Sunday on Lebanese news outlets. In the piece, Brig. Gen. Ronen Manelis said Iran's extensive support for Lebanon's Hezbollah terror group had turned the country into a "branch" of the Islamic Republic, Times of Israel reports.
It was particularly unusual that the article was published on several Lebanese-owned websites and Arabic publications – including Voice of Beirut, Sputnik and Israeli radio's public Arabic broadcaster.
"Lebanon is becoming, by default and by the failure of the Lebanese authorities, one big missile factory. It is no longer the just transfer of weapons, money and advice. Iran has de facto opened a new branch — 'the Lebanon Branch.' Iran is here," wrote Manelis, according to a Hebrew translation from the Israel Defense Forces.
Israel has also warned against the establishment of Iranian missile factories in Syria, as well as the transfer of advanced weapons from that country to Hezbollah. Dozens of airstrikes on weapons convoys bound for Lebanon have been attributed to Israel by foreign media reports.
Hezbollah, which has long targeted Israel and Jews worldwide, is currently fighting in the Syrian civil war on behalf of Syrian President Bashar Assad, a fellow Iran ally. The Lebanese terror group has also been accused of assisting Iranian-backed Shiite militias in Iraq and Yemen. In light of its regional activities, Manelis said the past year provided "further proof that Hezbollah serves as Iran's operational arm."
"In every place where instability prevails we discovered Iran's fingerprint, and in every place we discovered Hezbollah's involvement," he said, adding that "billions [of dollars] flow from Iran through Beirut to everywhere in the Middle East where there is evil and terror."
Half a year ago, senior Israeli officials, including Prime Minister Benjamin Netanyahu, his defense minister, and the chief-of-staff, charged that Iran had begun to build plants to manufacture arms in Lebanon. Israel threatened on a number of occasions to bomb the plants, which it suspected were under construction.
According to the Israeli assessment, Iran wants to step up its efforts to improve the accuracy of Hezbollah's missiles and rockets and, as foreign media have reported, the Israeli Air Force has attacked some of the convoys smuggling precision weapons from Syria to Lebanon. This is something that Israel has indirectly admitted on several occasions. As a result, the Iranians have been seeking to get around this obstacle by transferring production facilities to Lebanon itself.
Last September, following the Israeli threats, it appeared that Iran had stopped work on the construction of the plants in Lebanon. Since then Israeli planes have on several occasions attacked military sites associated with the Iranians in Syria, according to foreign media reports. In September, a large weapons plant was bombed and in December, a base in the vicinity of Damascus built for Shi'ite militias operating under Iran's command was targeted. Now it seems Iran has resumed construction of the arms plants.
Manelis' article is directed at the residents of Lebanon, but it is apparent that it is also directed to the attention of the governments of Lebanon and other countries in the region, particularly Iran and Syria. Israeli defense officials have been making use of this direct channel more often lately.
Manelis warned in that a war with Israel could break out if Iran develops precision missiles in the country. Israel and Hezbollah fought a deadly 33-day war in 2006, which came to an end under UN Security Council Resolution 1701 which called for disarmament of Hezbollah, for withdrawal of the Israeli army from Lebanon, for the deployment of the Lebanese army and an enlarged UN force in the south.
"This past year (2017), like the 11 years that preceded it since the end of the Second Lebanon War, was characterized by relative stability on the Lebanese front. This quiet is for the benefit of residents on both sides. The fact that northern Israel and southern Lebanon have children who have not heard an alarm in their lives is a significant achievement of the Second Lebanon War, and the best proof of the stability of Israeli deterrence and the burning memory among the Lebanese about the magnitude of Nasrallah's previous mistake," Manelis wrote.
Nevertheless, according to IDF assessments, Hezbollah has since rebuilt its arsenal with at least 100,000 short-range rockets and several thousand more missiles that can reach central Israel. In addition to a massive arsenal of rockets and missiles, Hezbollah is able to mobilize close to 30,000 fighters and has flouted its tunnel system, complete with ventilation, electricity, and rocket launchers.
Hezbollah has also increased its military capabilities due to its fighting in Syria on the side of President Bashar Assad, and has spread its troops across the entire Middle East.
"The past year has been further proof that Hezbollah serves as an operational arm of Iran. In every place where there was instability, we discovered the fingerprint of Iran and everywhere we discovered Hezbollah's involvement," Manelis wrote.
Senior officials from Israel's defense establishment have repeatedly stated that while the chance of escalation on the border is low, the smallest incident or a miscalculation by either side has the possibility to lead to conflict.
"The future of Lebanese citizens is in the hands of a dictator who sits in Tehran," Manelis wrote, adding that "I think it is right to warn the residents of Lebanon of the Iranian game in their security and in their future."
In September, Israel carried out its largest military exercise on the northern border in 20 years with tens of thousands of soldiers from all branches of the army simulating a war with Hezbollah.
"The past year has been used by the IDF to significantly improve preparations for war on the northern front. If our enemies understood how much we knew about them, they would be deterred from entering into another conflict for many more years to come," Manelis wrote.