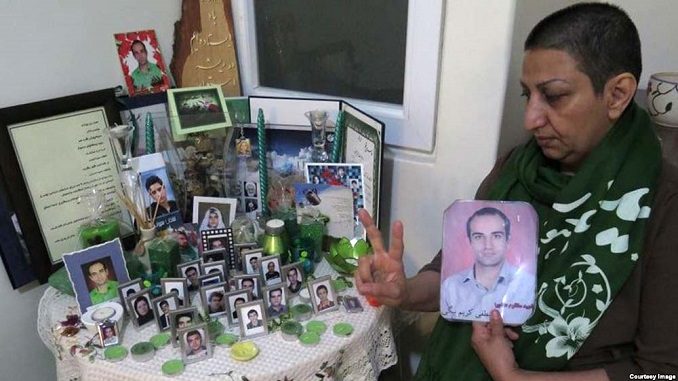 A court in Iran has sentenced the mother of a protester killed in a government crackdown in 2009 to a year in prison after convicting her on charges that include spreading "propaganda against the establishment," people close to her say.
Shahnaz Akmali has also been barred from posting on social media and banned from leaving Iran, people who are familiar with the ruling told Radio Farda on October 26. They spoke on condition of anonymity for fear of reprisals. There was no immediate comment from Iranian authorities.
Akmali's son, Mostafa Karim Beigi, was killed in the crackdown that followed mass street protests over the disputed June 2009 presidential vote. He was shot in the head around Neauphle-le-Chateau Street of Tehran.
Ashura, which is the holiest religious day in Iran, turned into one of the bloodiest days of the year when at least seven protesters including Beigi were killed and hundreds were arrested in 2009. It remains unclear who shot Beigi, but the Iranian authorities initially concealed his location after he was killed, and subsequently refused to conduct an investigation into his murder.
Although Tehran is his place of residence, the security agents did not permit his burial in Tehran. As a result, his family was forced to bury him in Karaj. Before the memorial service of Mostafa Karim Beigi, Akmali has been summoned annually by the security forces and she has been warned about the restriction of holding a ceremony for her son.
Akmali has been outspoken in the years since his death, making multiple fruitless attempts to seek the prosecution of those responsible. She had also become active on social media, highlighting alleged human rights abuses by Iranian authorities and calling for the release of political prisoners.
According to the reports, Akmali was detained by the agents of the Ministry of Intelligence at her workplace on 25th of January and later released on bail. After searching the house, the agents confiscated all properties of Akmali. It was not clear what triggered her arrest.
Before her arrest, Akmali had complained about state pressure on her and her family, saying that the authorities had warned her to stop her human rights activism. An Amnesty International spokesperson had told the Guardian newspaper in February that Akmali had been had been detained solely on account of "her courageous human rights work."
"The continued detention of Shahnaz Akmali is another example of the repressive tactics Iranian authorities regularly resort to in a bid to deter human rights defenders from speaking out and supporting victims of violations," she said.
The rights group said in a report issued in August that Iran's judicial and security bodies have waged a vicious crackdown against human rights defenders, demonizing and imprisoning activists who dare to stand up for people's rights.
Human Rights Watch's Sarah Leah Whitson said: "Arbitrarily detaining a woman who has repeatedly asked for justice for her son is simply shameful. The judiciary should focus on finding out who killed Shahnaz [Akmali]'s son, instead of prosecuting her for peaceful activism."
Akmali has 20 days to appeal the verdict and sentence.