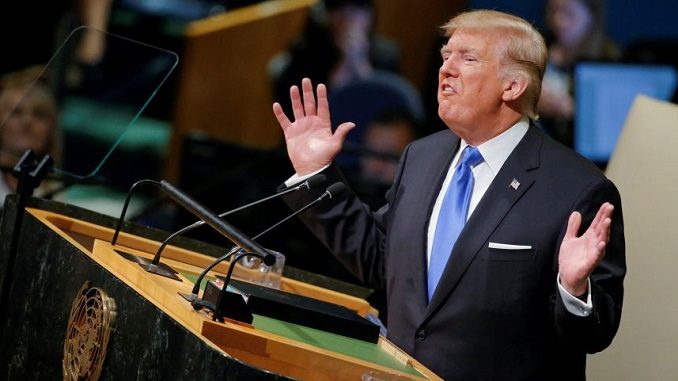 U.S. President Donald Trump is expected to announce soon that he will decertify the landmark international deal to curb Iran's nuclear program in a step that potentially could cause the 2015 accord to unravel.
Trump said Iran has not lived up to the spirit of the deal. Though he does not intend to recommend Congress reinstate sanctions that would scrap the agreement, he will go against advice of prominent critics, The Washington Post reports.
The official, speaking on condition of anonymity, said Trump is also expected to roll out a broader U.S. strategy on Iran that would be more confrontational. Supporters say its collapse could trigger a regional arms race and worsen Middle East tensions, and, according to Center for Security Policy President Frank Gaffney, some of them are pressuring Trump to stay in it.
"We're continuing to see evidence that the insubordinates around him are pressing him not to do what the facts require him to do, which is to say Iran is not in compliance with this so-called political understanding. What I'm afraid may come out of it, though, since he's very intent, it seems, to decertify, as the facts suggest he must, is that there will be a kind of Solomonic splitting of the baby," Gaffney said.
He predicted this would lead to Trump's remaining in the nuclear deal with deep reservations.
"That's really, in a way, the worst of all worlds because we're acknowledging there is no basis for a deal, but on the other hand, we're going to continue to legitimate it or continue to be bound by it ourselves in the interests of renegotiating some of its terms," he said, warning this could lead to "unhelpful and downright reckless" changes.