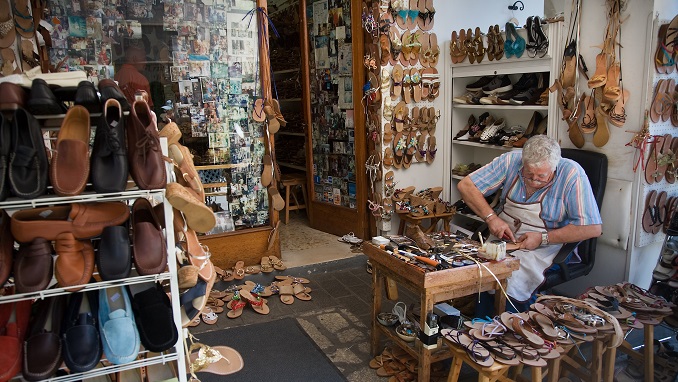 A group of workers and merchants in the shoes and bags sector in the province of Tehran organized a rally outside the Iranian regime's Ministry of the Interior to harshly protest the closure of many workshops that are engaged in the sector's production.
According to the state-run ILNA news agency, at least 200 workers and merchants of the bags and footwear industry gathered in front of the Interior Ministry protesting widespread unemployment in this industry and the closure of many workshops producing these products.
Protesters stated that the massive number of foreign workers and the increase in the volume of foreign products in the market has caused many bags and shoe manufacturers to close down.
Meanwhile, according to them, 2,000 city-wide workshops are now producing bags and shoes, and if this trend continues, thousands of workers and business owners who have an experience in this industry in the past two decades will be unemployed.
Workers said that the problem lies in the fact that some employers hire people from neighboring countries because they pay smaller amounts of money for their salaries.
According to one of the protesters, since foreign workers do not have a permit to enter Iran, the employer will keep them inside a workshop until they get the necessary permits, thus making them work on a daily basis, but paying them a very small salary.
This would result in the price of the products being produced by these foreign workers reaching one-third of the domestic products, and the big market distributors will also get them their goods and raw materials they need.
The protesters believe that this way the foreign workers hurt the Iranian workers and their employers, many of whom have become unemployed with inexhaustible production, and have inevitably turned to service jobs for their livelihoods.
Another challenge that Iranian bag and leather goods manufacturers deal with is the import of foreign products.
Government institutions are the ones who are responsible for the useless and uncontrolled import of foreign goods, which basically has caused many factories and production units in Iran to close down due to the low prices of the goods that are imported, thus causing thousands of workers to become unemployed.
Annually, millions of dollars are spent on imports of unnecessary items similar to those produced within Iran, which is a huge blow to Iran's domestic production and economy.