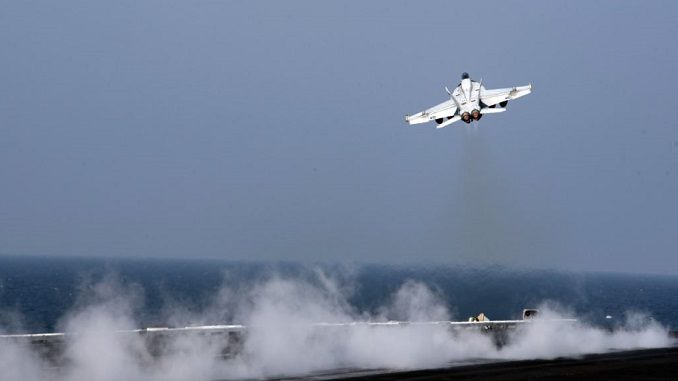 An Iranian Revolutionary Guards commander said on Monday that U.S. vessels patrolling the Gulf had changed behavior and now abided by international regulations, Radio Farda reports.
Rear Admiral Ali Ozmaei's remarks cited by Tasnim news agency followed last week's comments by U.S. military officials that the Iranian military had halted routine "harassment" of U.S. naval vessels in the Gulf. Each state accuses the other of having flouted international regulations in the sea area, which is a major trade route for oil.
In recent years, there have been periodic confrontations between the Islamic Revolutionary Guard Corps (IRGC) and U.S. military in the Gulf.
"We see that Americans behavior has changed. They pay more attention to international regulations and avoid approaching Iran's territorial waters," Ozmaei, the Guards' fifth naval district commander, said.
In the first such confrontation since President Donald Trump took office, a U.S. Navy ship fired warning shots when an Iranian vessel approached to within 140 meters last July. The following month an unarmed Iranian drone came within 30 meters of a U.S. Navy warplane as it prepared to land on an aircraft carrier in the Gulf. During the presidential campaign last September, Trump said any Iranian vessel that harassed the U.S. Navy in the Gulf would be "shot out of the water".
At the same time, it was reported this week that U.S. Navy vessels in the Persian Gulf had stopped experiencing dangerous close encounters with fast attack boats operated by the Iranian Revolutionary Guard Corps. In the two years following the July 2015 signing of the Iran nuclear agreement, there had been reports of approximately 50 such incidents, in which the IRGC boats maneuvered close to American ships, often at high rates of speed and with their weapons on display.
In some cases, the crews of the Iranian vessels refused to deviate from their course until the U.S. Navy had fired warning shots after first signaling with radio broadcasts, lights, and sirens. But the last of these incidents took place in July, and there have evidently been no significant encounters of this nature in the intervening six months.
According to Newser, the U.S. military has no official explanation for why the IRGC's behavior has changed, but the report quotes Ali Vaezi of the International Crisis Group as speculating that Tehran is exhibiting more caution out of fear that aggressive gestures will give the Trump administration justification for reprisals.