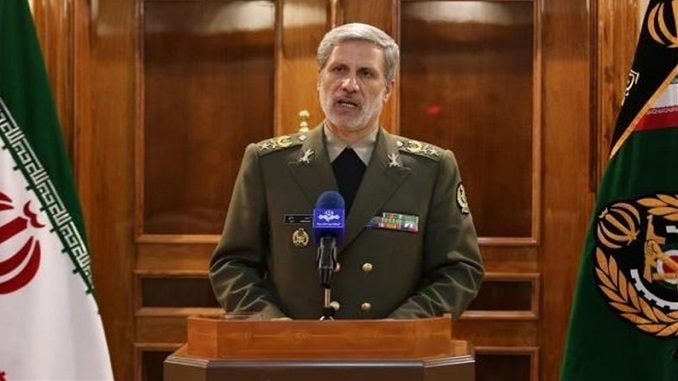 Iran's defense minister announced Monday his country's intention to examine missile parts that the U.S. ambassador to the United Nations displayed last week, claiming they were "undeniable" evidence that Tehran has been arming Yemen's Shi'ite rebels.
General Amir Hatami said Iran will file a complaint to the UN and demand that "parts of the missile be delivered to Iran" for examination. He told the semi-official Tasnim news agency that U.S. claims cannot be "answered remotely."
"The enemies of the Islamic Republic can make whatever claim, but after the complaint is filed (by Iran), a part of the missile should be handed over to Iran so we can inspect it," Brigadier General Hatami said, adding that the complaint would be a transparency measure by Iran.
At a news conference in a hangar at a military base in Washington last Thursday, U.S. Ambassador to the UN Nikki Haley presented recently declassified evidence, including segments of missiles launched at Saudi Arabia from the Houthi-controlled territory in Yemen.
"It was made in Iran then sent to Houthi militants in Yemen. From there it was fired at a civilian airport with the potential to kill hundreds of innocent civilians in Saudi Arabia," Haley said.
The missiles prove "blatant violations" of UN Security Council resolutions while the international community was "looking the other way" because of the nuclear deal, Haley said. The U.S. will now rally other nations to push back on Iran's behavior, she added.
Iran dismissed it as a "fake and fabricated" claim. In reply and in a tweet earlier on Thursday, Iranian Foreign Minister Mohammad Javad Zarif had likened Haley's speech to former U.S. Secretary of State Colin Powell's claim in 2003 that Iraq possessed WMD.  Powell's 2003 speech to the UN laid out the Bush administration's case for a war in Iraq. Powell in 2016 called the speech "a great intelligence failure".
In a statement issued on Thursday, Iran's Ambassador to the United Nations Gholam Ali Khoshroo also rejected Haley's claim as "baseless" and said the accusations are aimed at covering up the Saudi war crimes in Yemen with the U.S. complicity. Tehran denies arming Yemen's rebels in the war with Saudi Arabia.
"This purported evidence, put on public display today, is as much fabricated as the one presented on some other occasions earlier," said Alireza Miryousefi, a spokesman at Iran's mission to the United Nations.
Israel's UN Ambassador Danny Danon said Haley's presentation was a further indication of a need to contain Iran's missile program, which Jerusalem has long argued is a lacuna in the nuclear deal.
Yemeni rebel spokesman Muhammad Abdul Salam said late Friday on Twitter that Washington is "fabricating lies" to escape the repercussions of its recent decision to recognize Jerusalem as Israel's capital, a move that triggered protests in the Arab and Muslim world including in war-torn Yemen.