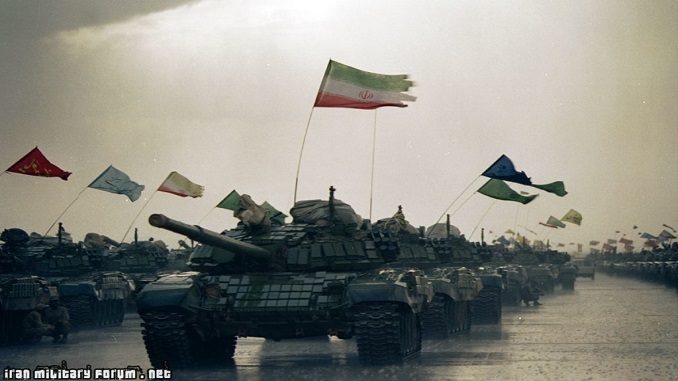 Iran deployed a dozen tanks supported by artillery at the border with Iraq's autonomous Kurdish region yesterday, a Kurdish official said, adding that the move was a dangerous escalation of the crisis triggered by Iraqi Kurdistan's independence vote, Reuters reports.
"The tanks can be seen from the Kurdish side," an official from the Kurdistan Regional Government (KRG) security council said, adding that the move was a "dangerous escalation."
The move is the latest in a string of increasingly threatening responses to the semi-autonomous region's decision to vote in favor of independence, which has drawn widespread condemnation from national governments in the region and failed to win unequivocal support from many of the Kurd's powerful western allies, including the United States.
Iraqi Kurds overwhelmingly voted for independence in a referendum held one week ago, defying the central government in Baghdad as well as neighbouring Turkey and Iran, which fear Kurdish separatism within their own borders.
On October 2, 2017, the Iranian forces appeared along the Iran-Iraq border, reportedly as part of a previously announced combined drill with Iraqi national forces and militia in retaliation for the independence vote.
The deployment at the Parviz Khan border point was part of joint military drills conducted by the Iranian and the Iraqi armed forces in response to the referendum, state media in Tehran said. The exercises began last Sunday, according to Iran's Mehr news agency.
Masoud Barzani's KRG says it plans to use the referendum's result as a mandate to negotiate the peaceful secession of the Kurdish region through talks with Baghdad.
But Baghdad has rejected any talks with the KRG over independence. It demanded that the KRG relinquish control over its external border crossings with Turkey, Iran and Syria. It also demanded the KRG handover its airports to federal control.
Iraq's defence ministry said on Friday the Iraqi authorities planned to take control of the borders of its autonomous Kurdistan region "in coordination" with Iran and Turkey. The statement did not give details whether Iraqi forces would move towards the border posts controlled by the KRG from the Iranian and Turkish side, or set up checkpoints in the vicinity of these posts in order to control the crossings.
Iranian state television on Saturday quoted a military spokesman as saying Iran and Iraq "agreed on measures to establish border security and receive Iraqi forces that are to be stationed at border posts".
Iran has vowed to stand alongside Baghdad in the fallout following the referendum. Allowing Iraq to seize border posts from Kurdish control would further cement Iran's stance to renounce dealings with the Kurdistan region in favour of the central government in Baghdad.